25 October 2017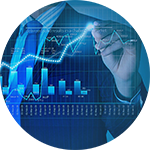 Dear traders,
European Central Bank (ECB) conducts monthly press conferences. Market participants always wait for this event with great interest because it frequently causes high volatility.
This month ECB press conference will be held on October 26th at 12.30 noon GMT. Leading FreshForex analyst Catherine Main tells what to expect from the conference:
---
"Traders are interested to know only one thing: when ECB will end QE. Opinions are divided as some market participants are confident that the date is November 1st, others think it's January 1st. As core inflation failed to reach this year high, the date January 1st looks more plausible and this will have negative impact on euro. Trading signals: on Thursday sell EUR/USD, EUR/GBP."
---
FreshForex experts provide reliable forecasts. Monitor closely the situation on market together with Fresh Forecasts and earn on the key economic events!

If you have any questions, don't hesitate to contact us:
Good luck in trading!
FreshForex — fresh view on money!