01 November 2017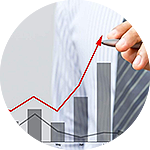 Dear traders,
This Thursday, on November 2nd at 12 noon GMT Bank of England meeting will be held to make decision on interest rate.
Bank of England is the central bank of the United Kingdom, which sets key interest rates for financial markets of the country and influences monetary policy of the Kingdom.
FreshForex analysts tell what to expect from this meeting:
---
"The forecast shows that BoE is likely to significantly raise interest rate. This rate hike is thought to increase the pound demand among foreigners, which in turn will cause rise of GBP price. Trading signals: on Thursday consider buying GBP/USD, GBPAUD and selling EURGBP, USDCHF."
---
Monitor closely the situation on market together with FreshForecasts and earn on the key economic events!

If you have any questions, don't hesitate to contact us:
Good luck in trading!
FreshForex — fresh view on money!