27 November 2017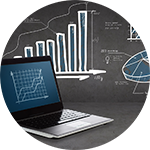 Dear traders,
To make informed and profitable trading decision it's necessary to thoroughly analyze the market. We want our clients to earn, so we've developed the service of up-to-date accurate Fresh Forecasts!
Fresh Forecasts are the summarized review of the popular trading instruments. There are three different analysis methods that we use in our reviews: Fundamental Analysis, Elliot Waves for Forex Correlation Analysis and Technical Analysis Based on Breakout, and each of them is worth talking about.
We value your time! Each forecast on any instrument won't take more than 30 seconds to read. However, if you don't want to spend your time on daily market review, there's an option for you: weekly forecast of price movement for popular and volatile instruments.
Let's look closely at each of the analysis methods:
---
Fundamental Analysis

It is based on the review of key economic, political and monetary events and news in the world. If you want to learn how to trade on news and get high profit in a short time, this method is for you! Learn more...

Technical Analysis Based on Breakout

This is a trend following analysis using a breakout entry formation that generally has the greatest results. This analysis is good for 4H trading, but can also be used on almost all time frames and on all pairs. Learn more...

Elliot Waves for Forex Correlation Analysis

Support and resistance system is perfect for higher timeframe chart, like one hour and above. It will help you to recognize strong levels for trading. Learn more...
---
Follow up-to-date market reviews and earn with FreshForex!
If you have any questions, don't hesitate to contact us:
Good luck in trading!
FreshForex — fresh view on money!