08 December 2017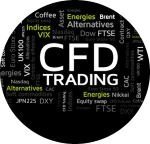 Dear traders,
At the moment Contracts for Difference (CFD) are one of the most high-yield trading instruments, and FreshForex offers excellent trading conditions for CFD trading on indexes, gold and energy commodities!
We offer 45 contracts with the minimum margin of less than $10, including #Apple and #Facebook shares. We also made a list of the most interesting CFD contracts of December:
BTC – indisputable leader is, of course, cryptocurrency bitcoin. It continues to set new records, and on the morning of December 8th its price exceeded $16 000!
Boeing – this company's shares are growing rapidly and take leading position in DJ30 index. Rates are growing due to significant increase in company's profit.
Apple – the world's most expensive company, its shares are very high in demand among investment funds.
Tesla – now there are 2 billion electric cars produced in the world. By 2040 the number of produced cars is thought to increase to 500 billion electric cars. The company of Elon Musk has huge market, and traders are actively buying shares of the company.
XPD/USD – palladium has limited supply in the world. For this reason, there is stable uptrend on this instrument.
For detailed CFD contracts specification check trading conditions section.

If you have any questions, don't hesitate to contact us:
Good luck in trading!
FreshForex — fresh view on money!