26 February 2018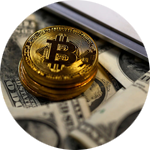 Dear traders,
What is the world's most popular cryptocurrency? If your answer is Bitcoin, you are right. In 2017 Bitcoin price increased by 782%. However, price of some other currencies increased even more! For instance, Ethereum price increased by 6900% and Ripple — by 16 311% in 2017. Can you imagine that?
More and more traders are turning their attention to cruptocurrency trading. How to earn on cryptocurrencies? It's all about strategy!
We are constantly striving to offer you the most innovative tools and services, so we are launching two brand-new Fresh Forecasts for Bitcoin, Ripple and Ethereum!
Technical crypto analysis based on breakout
As cryptocurrencies, such as Bitcoin, Ripple and Etherium are trend instruments, I offer this trend following analysis using a breakout entry formation that generally has the greatest results.To the forecast
Elliott waves crypto analysis
Support and resistance system for cryptocurrency trading should only be used in a higher timeframe chart, like one hour and above. To the forecast
Follow the latest market events with Fresh Forecasts!
Please be informed that the forecasts are not guide for action on the market. The experts are not in any way responsible for loss or damages resulting from the content provided.
If you have any questions, don't hesitate to contact us:
Good luck in trading!
FreshForex — forget other brokers!