27 February 2018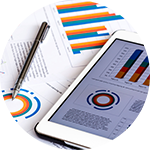 Dear traders,
FreshForex creates new additional exclusive features for MetaTrader trading platforms!
We know how important it is to have all the needed information for trading at hand. Now you can check how many FreshForex traders sell or buy at the moment, track key news releases and get up-to-date information about new FreshForex services and offers without leaving the trading platform.
To check out these features go to "Company" tab in "Toolbox" menu at the bottom of the screen.
Check out what orders open other traders
The first widget in "Company" tab shows what percentage of traders buy or sell at the moment. This information allows you to make more precise trading decision.
We inform you about key market news
For profitable trading om financial markets it's important to follow major economic news releases and events that are likely to affect exchange rates. Our tracker shows how much time is left before news release and how important it is for traders.
FreshForex special offers
On the last widget you may see current FreshForex offers and new services which are useful for trading.
New convenient features for trading are already in the trading platform!
If you have any questions, don't hesitate to contact us:
Good luck in trading!
FreshForex — forget other brokers!