01 March 2018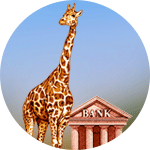 Dear clients,
Think that funds should bring income even if they are simply held on the account? We fully agree with you!
Special FreshForex offer "48% per Annum" allows you not only to increase your deposit by trading but also to get weekly cash payments on free funds not used in trading.
Nice bonus for active traders: the bigger your weekly trading volume, the more additional funds you get!
Besides, you can either use credited funds in trading or withdraw them without any restrictions.

If you have any questions, don't hesitate to contact us:
Good luck in trading!
FreshForex — forget other brokers!