06 March 2018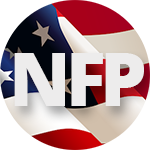 Dear traders,
On March 9th at 1.30pm GMT February Nonfarm Payrolls is to be released. This report shows changes in number of people employed in USA nonfarm sector. Total number of people employed in this sector is about 80% of workers producing USA GDP.
That is why NFP offers the best economics review and causes high volatility in markets!
Find out what results to expect in trading forecast of leading FreshForex expert:
---
"Non-manufacturing and Manufacturing ISM employment indexes grew heavily in the beginning of the year. That means that there were a lot of new jobs created. Number of people applied for unemployment benefits decreased to the five-year low in February. That will support positive trend. Strong Nonfarm Payrolls release will strengthen American dollar. On Friday consider selling EUR/USD, GBP/USD and buying USD/JPY, USD/CAD."
---
FreshForex experts provide reliable forecasts. Monitor closely the situation on market together with Fresh Forecasts and earn on the key economic events!

If you have any questions, don't hesitate to contact us:
Good luck in trading!
FreshForex — forget other brokers!