12 March 2018
Dear traders,
We would like to share February trading results of our clients. Check out FreshForex report about the best trades and the most interesting instruments and set your own records!
Clients' Results
$5 180.17 is the most profitable February trade! It was long EURCAD position of 1 lot, order was in market for about 1.5 months.
1074.25% is the biggest increase in funds in a month, the client achieved such a result by trading currency pairs.
The most active trader made 1414 trades this month! The client traded major currency pairs, indexes, metals and oil without using Expert Advisors!
$138 176 is the best total trading result of February! The client traded currency pairs.
61% of all the February trades were profitable.
2/3 of clients with deposits larger than $10 000 closed this month with profit.
March most Interesting Instruments
Within the first week of March some instruments might have brought profit up to $9 731!
Check out the most profitable instruments for the moment:
NZDCHF, GBPCHF – in February traders sold Swiss franc after the weak Swiss inflation data: in January consumer prices reached three-month low. Within the first week of March NZDCHF trade of 6.84 lots could have brought $9 731 of profit, and GBPCHF of 3.61 lots – $6 423.
#NQ100, #SP500 – American stock indexes showed volatility splash in February. ADX indicator provided precise forecast: rates dropped at the beginning if the month and rose in the latter half of February. Within the first week of March #NQ100 trade of 1.75 lots could have brought $9 219 of profit, and #S&P500 trade of 1.79 lots – $6 758.
#BTC – Bitcoin keeps bringing profit to traders, who use trend strategies. In February we observed uptrend of the most popular cryptocurrency!
#HSI – when Chinese New Year was over Hong Kong stock market rose, as usual. We observed uptrend of HSI index in February. Within the first week of March #HSI trade of 0.62 lots could have brought profit of $6 854.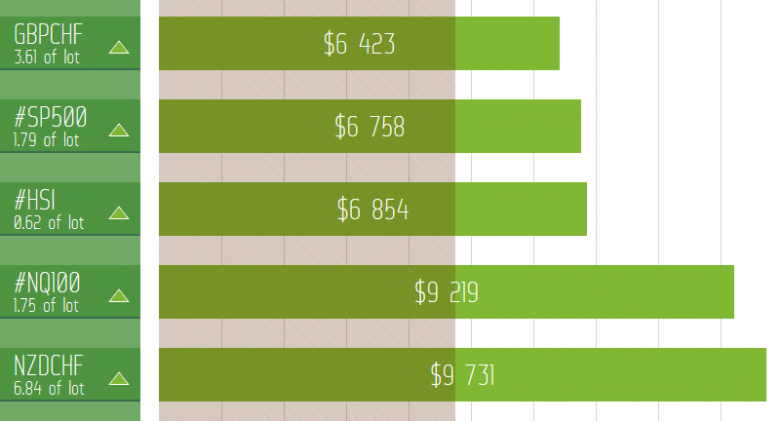 *All the profit is counted for a trade with margin of $1 000.
For more information about volatile trading instruments of the month check out our Forex Heatmap!
If you have any questions, don't hesitate to contact us:
Good luck in trading!
FreshForex — forget other brokers!