20 March 2018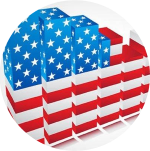 Dear traders,
The main economic event of the week is Federal Reserve System (Fed) meeting that will be held on March 21st at 6pm GMT.
USA Fed is an independent federal agency, one of its main functions is implementation of monetary policy. The text of accompanying statement of Fed regarding the interest rate influences the market greatly. For this reason traders follow closely the outcomes of the meeting.
FreshForex expert shared their forecast:
---
"This is the first Fed meeting with Jerome Powell as the Chair of the Federal Reserve. Chicago futures exchange indicates that FOMC is highly likely to raise interest rate by 0,25%. Considering rising inflation expectations American Central Bank may announce 4 rate hikes in 2018. That's a positive signal for American dollar.

On Wednesday consider selling EUR/USD, GBP/USD and buying USD/CAD, USD/TRY."
---
Fund you account commission-free with FreshForex and don't miss real chance to earn on major economic events!

If you have any questions, don't hesitate to contact us:
Good luck in trading!
FreshForex — forget other brokers!