26 March 2018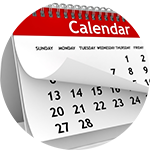 Dear traders,
Please be informed that for the period of Easter Holidays trading hours will be changed. Changes are due for March 29th-30th and April 2nd:
Instruments
Trading hours
March 29
(Thursday)
March 30
(Friday)
April 2
(Monday)
Forex
Regular hours
Regular hours
Regular hours
CFD on precious metals
Closed
CFD on energy commodities
CFD on index #ASX
Early close at 4pm EEST
Closed
CFD on indexes #DAX30, #ESTX50, #CAC40, #IBEX35, #FTSE100, #HSI
Regular hours
CFD on indexes #DJI30, #SP500, #NQ100, #NIKKEI
Regular hours
CFD on shares NYSE, NASDAQ
CFD on shares MICEX
* EEST - Eastern European SummerTime (FreshForex trade server time zone).
Company reserves the right to suspend the trades if the instrument liquidity decreases.
Please consider this information when planning the trade on financial markets.
Starting from April 3, 2018 trading returns to regular hours
If you have any questions, don't hesitate to contact us:
Good luck in trading!
FreshForex — forget other brokers!