27 February 2015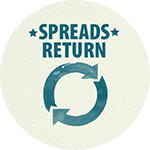 Dear clients! "Spreads return" promotion has been extended till April 30 of 2015!
Why have we decided to do so?
1. Our Forex rebate is one of the most beneficial in the market. We return up to $10 per lot for each loss-making trade and $5 per lot for each profitable trade. This way we ensure that traders earn money no matter what market is today.
2. The promotion is effective for all financial instruments including oil, stocks and indexes. For those who have not enjoyed benefits "Spreads return" yet, it is the best time to try it out.
Choose one of the two Forex rebate options, activate the promotion plan and receive extra income for profitable or loss-making trades each week.
Wish you good luck in trading!
"FreshForex" – fresh view on money