08 May 2015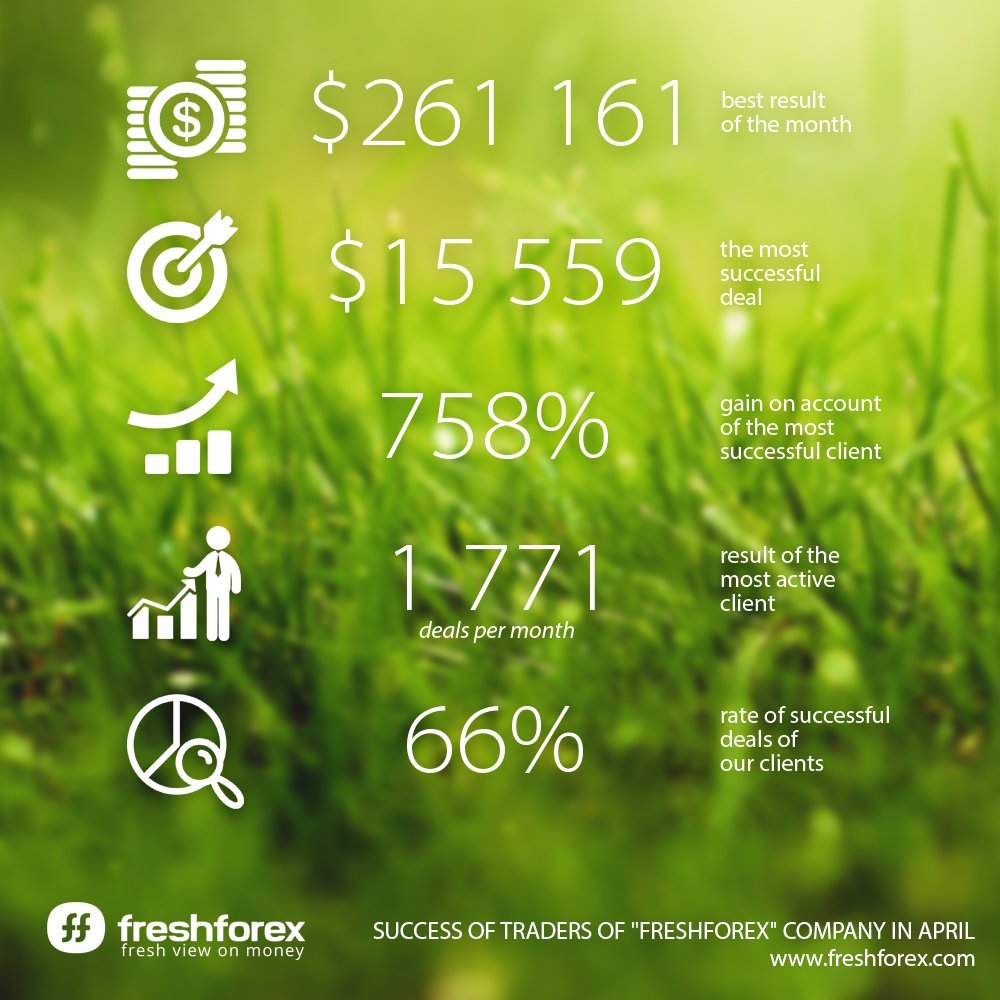 Dear clients!
Today's report presents the most important information on trading of our clients in April. Learn how leaders earn!  
The highest increment on account  in the amount of 758% was reached by a trader whose initial deposit was just 20 USD. He operated intraday with both major paires and spot metals and complied with the risk management rules by putting Stop loss and Take profit for absolutely all trades.  


We would like to particularly mention one of the most successful examples of application of the middle-risk strategy. Client of the company who opened 14 deals on WTI previously in March, managed to earn more than 8 000 USD the next month. Upon that , the increment of deposit was 72.51%. He had been locking trades in profit during the whole month and kept opening new deals on XAGUSD. We wish this client success in further business!


The leader in profit-making obtained revenue in the amount of $261 161 through a successful trading with EURUSD. One of these trades is the most successful trade in April, because it brought its master $15 559 for only 10 days. To increase his trading volume, he used "35% on deposit" promotion, which helped him to achieve a desired goal.


Activity record in April - 1771 deals per month; 


66% trades in April were locked at a plus.
How did markets behave in April?
Deflation is retreating from Euro zone which supported demand in EUR/USD. Based on results of the month, this currency pair added 4.54%.
Macroeconomic growth in the USA slowed its paces which encouraged bulls to open long with GBP/USD. This pair increase its weight by 3.58%.
Weak macroeconomic releases from the USA on labor and GDP pressed USD/JPY, which lost 0.6% by the end of April.
Cut of the number of drilling rigs in the USA moved oil quotes upward: Brent and WTI added 20.3% and 24.4% respectively.
Toughening of monetary policy is not on the Fed Reserves agenda and it supports demand in S&P500. This US index reached its new High and closed April by growth in the rate of 0.92%.
As car sales in the USA and China grew, Palladium (XPD/USD) quotes went up and added 5.8% by the end of the month.
Wish you good luck in trading! 
"FreshForex" – fresh view on money
Other news: