The last, 18th tour of "Forex Finals" starts on April 10th and will continue until May 5th. "Forex Finals" is a recurring trading competition on live accounts. Registration is already open. At the end of the tour we will determine the top 5 traders who will share the prize fund of 1,400 USD. The winner will be awarded a PAMM STP account with 1,000 USD in it.
This tour is going to have extra prizes! We will compare the results of the Forex Finals tours 13th through 18th and determine the best traders based on the performance in the past 6 tours. These 3 traders will be awarded 3 more PAMM accounts worth of 3000$, 1000$ and 1000$ respectively.
REGISTER NOW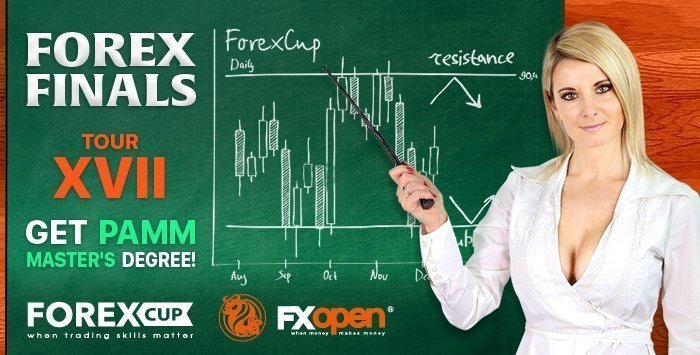 Tour XVIII Facts & Figures
Dates: April 10 – May 5th, 2017
Prize fund: 1 400 USD
*Rewards:
 • 1st place – PAMM STP with 1,000 USD 
• 2nd place – 200 USD
• 3rd place – 100 USD
• 4th place – 50 USD
• 5th place – 50 USD
Initial deposit: 100 USD on STP;
Trading restrictions: none. We permit to use all trading instruments available on FXOpen STP accounts, any trading strategies, advisors (AEA, MEA, etc.) and any other standard MT4 scripts and add-ons.  
Registration is already open and will remain open throughout the competition. If you already participated in one of the previous tours, you don`t have to register again.
Read more about the terms of "Forex Finals" at ForexCup forum.