The US retail sales and industrial production data released on last Friday outperformed and the dollar strengthened across the board.
As a result, the dollar future index was helped by the outperformance of economic data and rallied 0.82% from 95.94 to 96.725. The bullish trend of the dollar remains unchanged post Brexit referendum, yet the current position is near the resistance level of 96.80, the same level of the 23.6% in terms of the Fibonacci retracement since the end of Jan this year.
Dow Jones spot index reached to a peak of 18569 points since Sep 2012, yet it has surged around 8.85% from 17060 post referendum, KD indicator diverges from the bullish trend by creating lower lows, implying a pull back. The risk-on market sentiment is not much interfered by the recent incidents in Nice and Turkey. The safe haven gold has pulled back 2.36% from the high of 1374.9 to 1342.46 since 11th Jul.
Last Thursday, the FOMC member Esther George stated that interest rate might be increased for the rebound in the US labour market in June.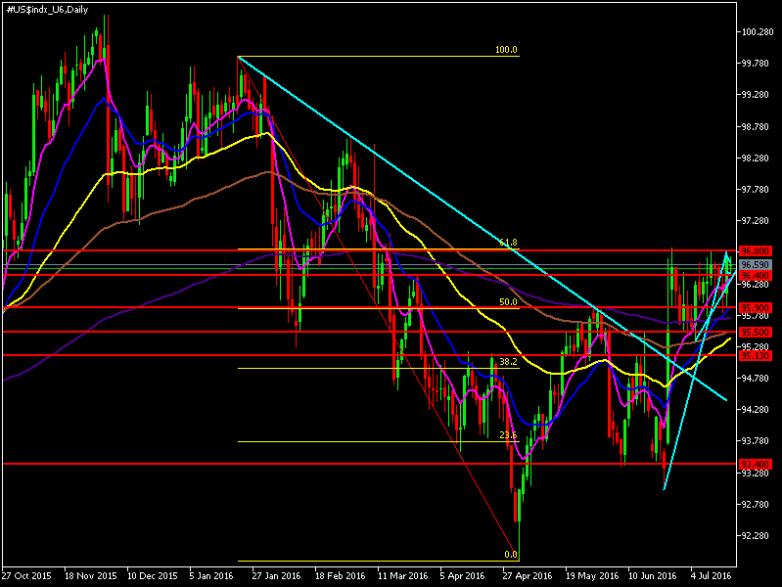 As result of economic data outperformance stimulus, the USD has strengthened against the GBP, the price section was near the significant resistance level of 1.35 causing the pull back of GBPUSD from 1.34797 to 1.313. Two upper spikes were formed on the daily chart by the candlesticks of 14th and 15th July, indicating selling pressure at the level 1.35. On the 4 hourly chart, the downside uptrend channel support at 1.335 is broken, the current price section holds above the 50 EMA support level at 1.322, further support level at 1.31. The resistance at 1.335 followed by 1.35.
The post referendum economic condition is still unclear, in addition, it is very likely that the Bank of England will carry out stimulus measures in August, hence be aware that the markets might price-in before the confirmation and GBPUSD might be testing support levels at 1.31 and 1.285.