On Thursday afternoon 21st July, the Bank of Japan Governor Haruhiko Kuroda stated that there is no need to stimulate the economy with 'helicopter money', meaning the bank is not going to print large sums of money and distributing it to the public. After the statement was made, the yen strengthened against the dollar. On the 4 hourly chart, the bullish trend of USDJPY immediately reversed, dipping from the intra-day high of 107.482 to the low of 105.413, a 1.92% drop, the downside uptrend channel support was broken through, testing the support level of the low on 18th July at 105.264 and held. The current price section is oscillating between the 8 EMA at 106.40 and downside support at 105.70.
While on the same day morning, USDJPY surged to the highest level of 107.482, breaking out the high of 106.813 on 23th June UK referendum day, where also the 100% post referendum Fibonacci retracement level. The surge was followed by a pullback as near the 107.50 to 108.00 significant resistance zone, where three lines situate, including the daily time frame Ichimoku cloud, the weekly time frame upside downtrend line, and the weekly time frame 20 EMA.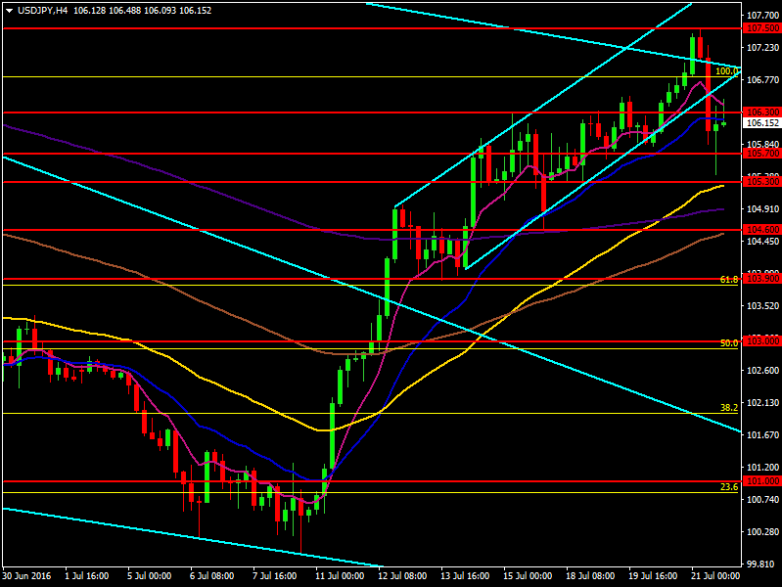 The rally was resulted from the Japanese media Kyodo News reported that the Japanese government is considering a stimulus package of at least 20 trillion yen to deal with deflation, which is two times more than the expected amount. Meanwhile, USD weakened, the dollar index fell from 97.225 to 96.875 as a corrective pullback.
The dollar has risen more than 5% against the yen since 11th July as the Prime Minister Shinzo Abe announced the upcoming stimulus measures. In addition, the dollar has strengthened since 5th July, and the recovered risk appetite from investors post UK referendum weighed on the safe-haven yen. The market expects that the Bank of Japan will implement stimulus measures and the yen will weaken. Kuroda's statements seem to manipulate the market speculation ahead of the meeting next week.
Upside resistances 100 % Fibonacci retracement level at 106.80 followed by 107.5 and 108.0.
Downside support levels at 105.70 followed by 105.30, and the daily 20 EMA at 104.65.
Bank of Japan's policy meeting will take place next week on 28th to 29th July. If the BoJ keeps the monetary policy unchanged, USDJPY will likely fall. On the contrary, if the BoJ cuts the interest rate to further negative or implements other stimulus measures, then USDJPY will likely rise. If the BoJ decides to postpone the monetary stimulus to September, then keeping an eye on the trend of the dollar.