The Services PMI (month-over-month) released falling significantly from 52.3 in June to 47.4 in July, which is the lowest level since the April 2009 post-financial crisis. The indicator was surveyed from a variety of service sectors, a reading below 50 indicates economic contraction. The sharp fall was a result from the impact of the referendum outcome to leave the EU.
Despite the Manufacturing PMI figure being 49.1, more than the expected figure of 47.8, it still fell from the previous figure of 52.1, the worst figure since April 2013. Both Services and Manufacturing PMIs show a decrease in orders and economic contraction after the referendum.
The service sector accounts for almost 80% of the UK GDP, while the manufacturing sector accounts only for about 10%. The service industry is at the heart of economic growth for the UK, hence the services PMI figures are crucial. The Brexit aftermath is starting to take into effect.
The dreadful figure implies that the probability for the Bank of England to cut the interest rate or to implement stimulus measures in the August meeting will be greatly increased.
As a result, the long term trend of GBPUSD is more likely to be bearish. On the 4 hourly chart, the price has oscillated in a range bound between 12th to 20th July, forming a head and shoulder pattern. The resistance on the top is at 1.327 followed by 1.335 and the neckline line support at 1.31. The pattern indicates that the upside selling pressure has increased over the period. From 20th to 22th July, the price has been oscillating in a range bound between 1.327 and 1.31, testing the upside resistance at 1.327 three times. With an attempt to breakout the upside downtrend line, the price section was pulled back into the downtrend channel, testing the low of 21st July between 1.31 and 1.30 and held. The current price section is below all the EMAs, indicating upside selling pressure is heavy.
Downside neckline support is at 1.31, followed by the significant level at 1.30 and 1.285.
Upside downtrend line resistances at 1.317 and 1.325 followed by 1.327 and 1.335, further significant weekly time frame resistance at 1.35.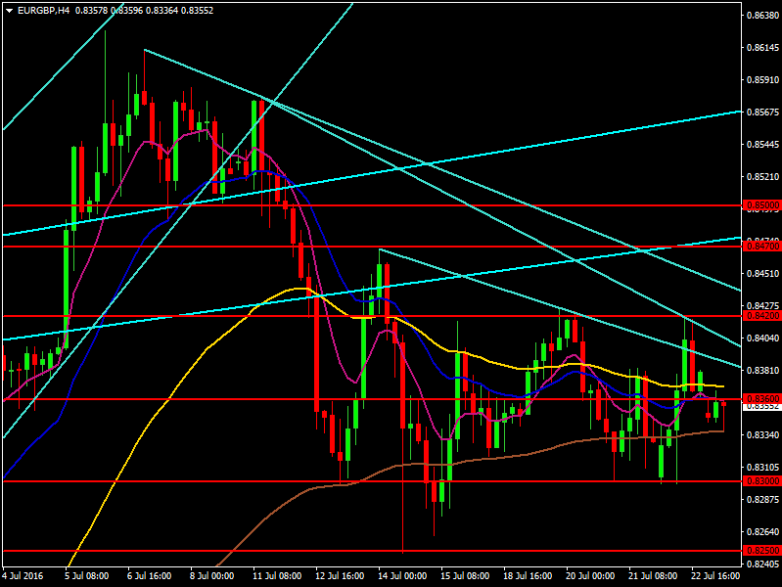 While the UK PMIs were released, on the 4 hourly chart, EURGBP turned bullish, the price section moved above all the EMAs from below, attempting to breakout the upside downtrend resistance. Yet the price pulled back into the downtrend channel after testing the resistance level at 0.842.
In terms of the trend of sterling is more likely to be bearish, we might see EURGBP to gain over the coming weeks.
Downside support at 0.83, followed by 0.825.
Upside downtrend line resistances at 0.836 and 0.8385 followed by 0.84 and 0.842, further resistance at 0.8444.