West Texas Intermediate (WTI) spot hit 3-month low of $43.14 on Monday owing to market concerns on the U.S. oil oversupply, sluggish global demand and a strengthening dollar.
Firstly, energy service firm Baker Hughes reported that the number of the active oil rigs in the U.S. has increased for the fourth consecutive week from 357 to 371. In the past two years, the decline in the U.S. drilling activity had provided support for oil prices. Nevertheless, the trend seems to reverse at present.
Secondly, although EIA (Energy Information Administration) reported a 2.342 million-barrel-reduction in the U.S. crude oil inventories on last Wednesday. However, later on EIA revealed that the gasoline inventories had climbed to the highest seasonal level since 1984, increasing by 911.000 barrels.
Thirdly, American gasoline consumption usually falls in August and September due to end of vacation, and refinery shut for seasonal maintenance during the period. As a result, crude inventories will be reduced at a slower speed, weighing on oil prices.
Fourthly, oil demand from China and India had slowed down, while that from developed countries had ebbed.
Fifthly, the recent strengthening of the dollar leads to the weakening of oil prices.
According to the data provided by the U.S. Commodity Futures Trading Commission (CFTC), traders and oil speculators have reduced their bullish bets in WTI for the fourth week. The oil speculative positions are now at the lowest level since 8th March as the oil fundamental weakens.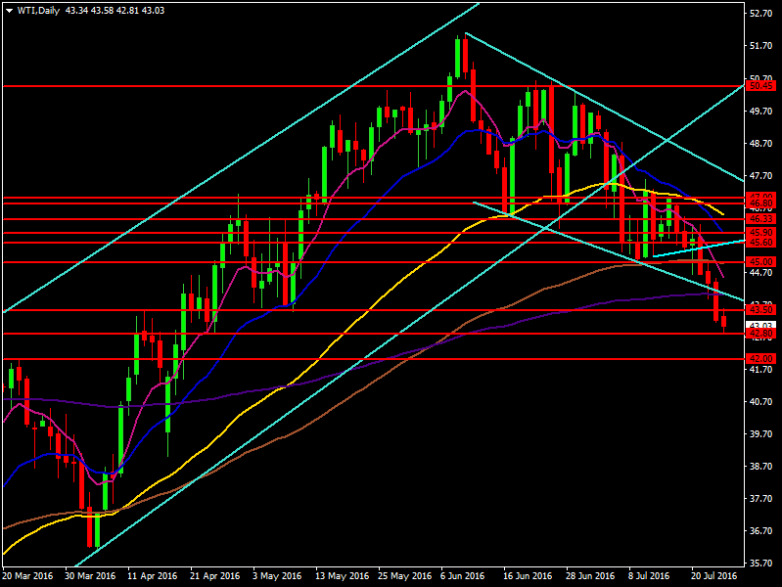 On the WTI spot daily chart, the price section has been oscillating in a downside channel after reaching a peak of $52.10 on 9th June. On Monday 25th July, the price section has broken through three important supports: the downtrend support line at $ 44.00, Ichimoku cloud, and the level at $ 43.50, further testing the downside support level at $42.80 and held. Currently the price section is below all the EMAs, if the level at $42.80 is confirmed breaking through then targeting the next downside support at $42.00.
Upside newly formed resistances at $43.50 followed by $44.00 and 8 EMA at $44.60. The significant upside resistance at $45.00.
Keeping an eye on the crude oil inventories data will be released on this Wednesday, a positive figure might cause oil prices to bounce. On the opposite, a negative figure will lead to a further drop.