The Atlanta Federal Reserve announced their second quarter GDP growth forecast of 1.8% from 2.3%. This was based on the data on wholesale and retail inventories in June released on Thursday by the U.S. Census Bureau. This was the first time that quarterly data from last month was provided ahead of the reveal of GDP, previously being released after a month. The figures are indicators for today's GDP number. The retail inventories showed a moderate increase.
Another figure released yesterday was the goods trade balance, and the difference between imported and exported goods in June increased to 63.30 billion. In comparison to last month's figure of 61.1 billion, was up 3.6%, reaching the highest deficit level since October 2015. The increase of inventories and trade deficit is posing a downside risk to the second quarter GDP.
The Atlanta Fed model indicated that the trade deficit would subtract 0.10% point from the second quarter GDP compare to the previous estimate of a 0.17% contribution.
On the 4 hourly chart, the support level at 96.80, where two lines situate, the uptrend line and the Ichimoku cloud, was broken yesterday and this price zone has become a new resistance. A downtrend channel has been formed since 27th July, indicating upside selling pressure is accumulating. The MACD indicator shows an ongoing bearish trend.
This morning the bearish trend continues, touching the next support level at 96.235 then bounced-off as the KD indicator was low. The current price section is in the range between 96.40 and 96.235. The KD indicator shows a crossover from top, indicating a further downturn.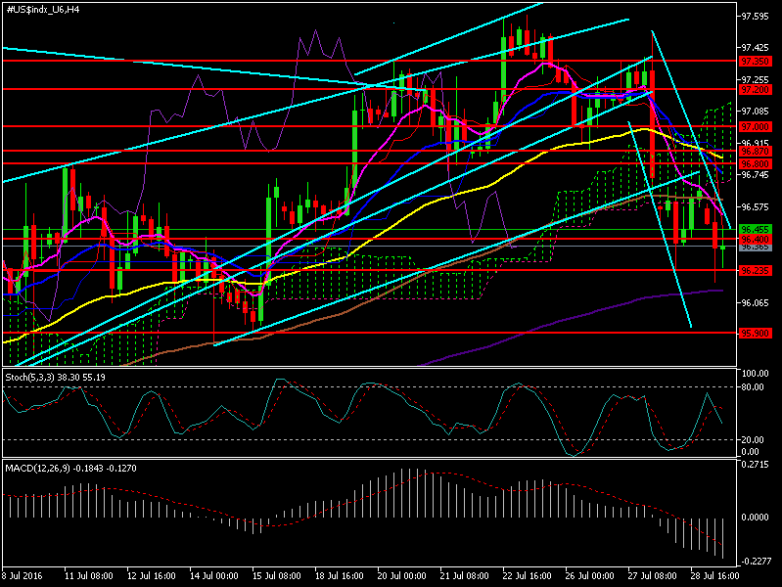 If the GDP figure released today underperforms then the price will fall below the level at 96.40 and test the next support at 96.235 again. By contrast, If the GDP figure outperforms then it will likely to rebound and jump above the level at 96.40.
Upside 8 EMA resistance at 96.54 followed by 20 EMA 96.76 and the level at 96.80.