The US Non-Farm Payroll (NFP) figure along with the unemployment rate of July will be released at 13:30 GMT today.
The ADP figure released on Wed was 179,000 slightly increasing in comparison with the expectation of 170,000. On the 4 hourly chart of the dollar future index, the price has been bearish from 27th July to 2nd Aug, then rebounding after testing the significant support level at 95.00, as the KD indicator showed it was oversold.
The dollar index has been oscillating in an uptrend channel since 2nd Aug, testing the upside resistance at 95.70 with six candles, yet didn't breakout. Earlier today the price pulled back and broke the first downside trend line support at 95.666, currently trading around the second uptrend line support at 95.59.
The pattern is turning to a range bound from uptrend since yesterday, indicating the rebound momentum is waning as the market is waiting for the NFP result that will decide the direction of the price.
Upside resistances at 95.70 followed by 95.90, 96.00, and the significant 50% Fibonacci retracement level from 27th July to 2nd August at 96.23.
Downside supports at 95.575, followed by 95.50, 95.325, 95.20, 95.00, and the previous low of 94.935 on 2nd Aug.
Keeping an eye on the upcoming NFP, If the figure outperforms, the dollar index will likely rally initially, yet might possibly follow by a sharp reversal within a short time, vice versa. Be aware that the first hour after NFP figure is released, the market will be extremely volatile due to the trades from big market players.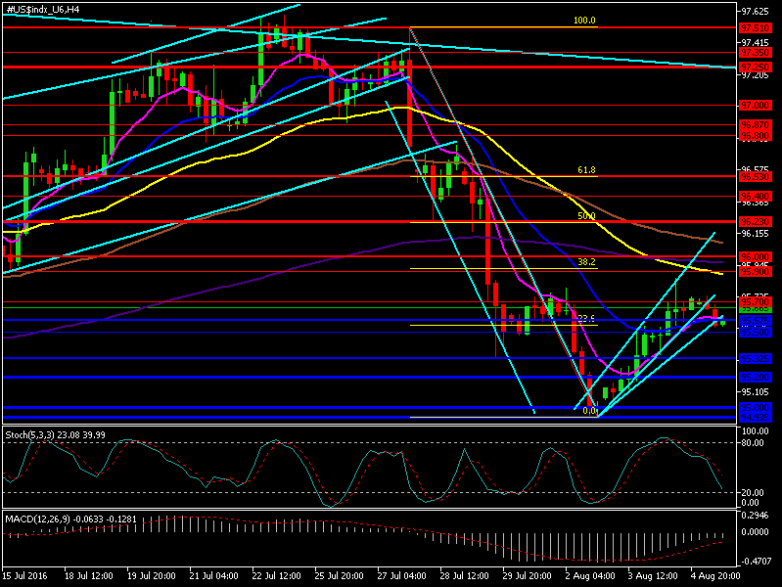 In terms of the gold spot price, on the 4 hourly chart, it is still oscillating in the uptrend channel, yet 1364-1375 is a significant resistance zone. It is currently trading around 1362, which is not far form the previous high at 1375 on 6th and 11th July, forming a double top pattern, indicating heavy profit-taking and selling pressure on the top.
The NFP result will be the key driver for the near term trend of the dollar and gold prices. If the dollar strengthens, the gold prices will likely fall. By contrast, if the dollar falls, gold prices will likely continue to be bullish, the 1375 resistance will possibly be tested.
The upside resistance is at 1367 followed by the significant level at 1375, the uptrend line resistance at 1384, and another major resistance at 1400.
Downside supports at 1360, 1355, 1350, followed by the 23.6% post-referendum Fibonacci retracement level at 1345, followed by 1330, and 1310.