The Dollar Future Index
The dollar future index surged from the intra-day low of 95.48 to 96.49, increasing by 1.06%, returning to the uptrend line and breaking out the resistance at 96.
On the 4 hourly chart, the price is above all the EMAs (exponential moving averages).
The short term EMAs crossed over long term ones, indicating a bullish trend. It is currently trading around the 50% Fibonacci retracement level at 96.23, oscillating in the uptrend channel.
Upside resistances at 96.40 followed by 61.8% Fibonacci retracement level at 96.53 and 96.80.
Downside supports at 96.23 followed by 96.00, 38.2% Fibonacci retracement level at 95.90 and 95.70.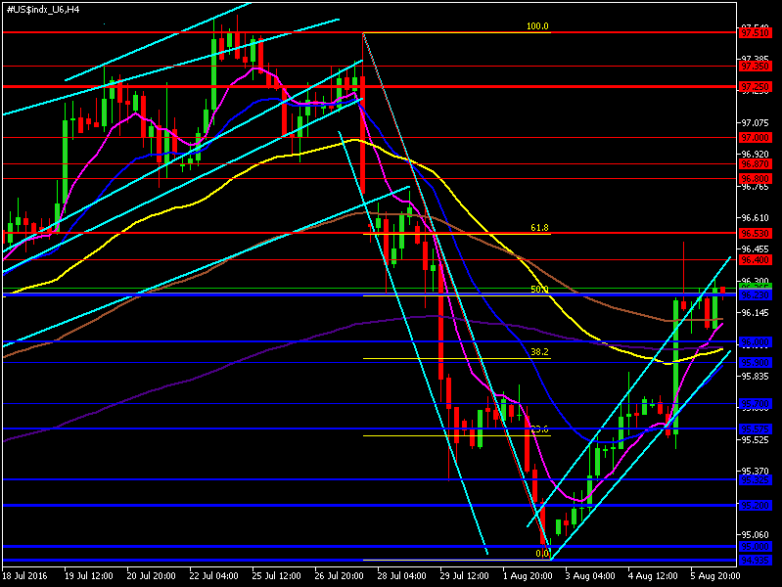 Gold spot
The robust NFP figure weighed on gold, gold spot price plunged from 1364.61 to 1334.67, falling by 2.24%, breaking through the significant support levels at 1350 and 1340. However, loose monetary policies, stimulus measure, and negative interest rate implemented by some central banks provide a support to gold prices. The biggest global gold ETF, SPDR Gold Trust, has also enlarged their gold position 0.73% to 980.34 tons until last Friday.
Gold will likely trade in a range bound. The significant resistance at 1375 will not be broken easily in the short term, unless boosted by significant economic data or monetary policies.
On the 4 hourly chart, the price broke the last uptrend line support at 1338, testing the downside support at 1330 and held. It is currently trading around 1332. With a confirmed breakout, targeting downside supports at 1330 followed by 1320 and 1310, the significant support at 1300.
Upside newly formed uptrend line resistances at 1338 followed by the 50% Fibonacci retracement level at 1340, 1345, and 1350.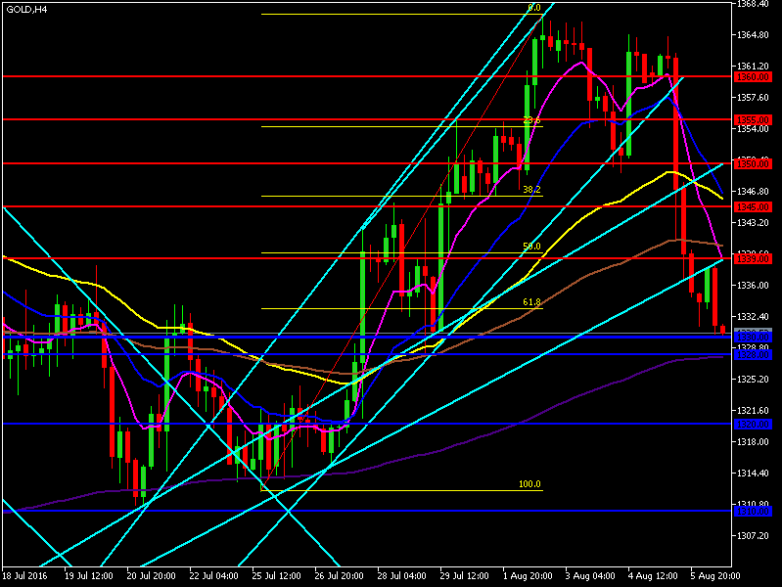 EURUSD
The European Central Bank's loose monetary policy will likely be in place for the long term until there is consistent and healthy economic recovery. The short term and mid-term trend of the Euro against the dollar is more likely to be bearish, especially after the Brexit vote.
After the NFP figure released, EURUSD broke out the level at 1.11. On the 4 hourly chart, it is currently trading below all the EMAs, indicating a bearish trend.
Downside supports at 1.08 followed by the downside uptrend line support at 1.1055, 1.105, and the significant level at 1.10.
Upside resistance at 1.111 followed by 1.113 and 1.12.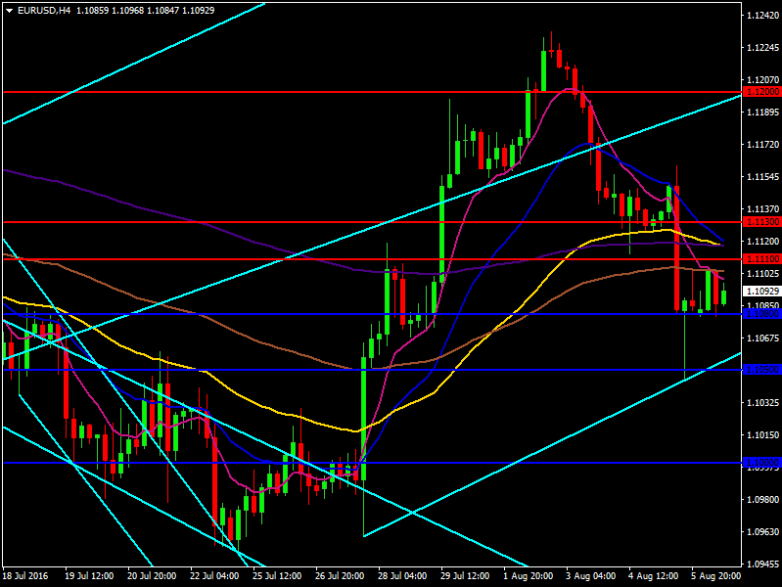 DAX Index
DAX rallied this morning as helped by the positive figure of German Industrial Production, jumping from 10364.78 to 10460.65, above all the daily time frame EMAs.
Yet it is trading around the previous high of 10473.40, which is the significant resistance zone. Besides on the 4 hourly chart, the KD indicator is above 90, indicating a pullback.
Downside supports at 10370 followed by 10300, 10350, and 10260.