GBPUSD
Earlier today the Sterling hit a one-month low, as the Bank of England policymaker Ian McCafferty commented that more quantitative easing was likely to be required if the UK's economic decline worsens. In addition, a series of UK economic data released today also weighed on Sterling. The significant level at 1.30 was broken.
The manufacturing sector, which accounts for about 10% of the UK GDP, fell to 0.9% from 1.5% (YoY Manufacturing Production in June), while the MoM figure increased to -0.3% from -0.6%. The YoY Industrial Production in June increased to 1.6% from 1.4%, while the MoM figure rose to 0.1% from -0.6%.
However, the Trade Balance and the Trade Balance Non-EU in June have worse performance. The former rose to -12.41bn from -11.53b. The latter rose to -4.16bn from -3.56bn.
GBPUSD has plunged 2.44% since 4th August against the dollar resulted from the BoE's rate cut and QE, also the strengthening of the dollar spurred by the robust Nonfarm Payroll figure. It is currently trading below all the daily time frame EMAs and the significant newly formed resistance level at 1.30, indicating a bearish trend and accumulating selling pressure above.
The bearish trend is still ongoing, with a confirmed break through, targeting downside support lines at 1.296 followed by 1.292, 1.29, 1.288 and 1.285.
Upside newly formed resistances at 1.30 followed by 1.305, 1.308, 1.31. 1.315, and 1.32.
The 4 hourly and the daily time frame KD indicators are at a low level, be aware a rebound before further falling.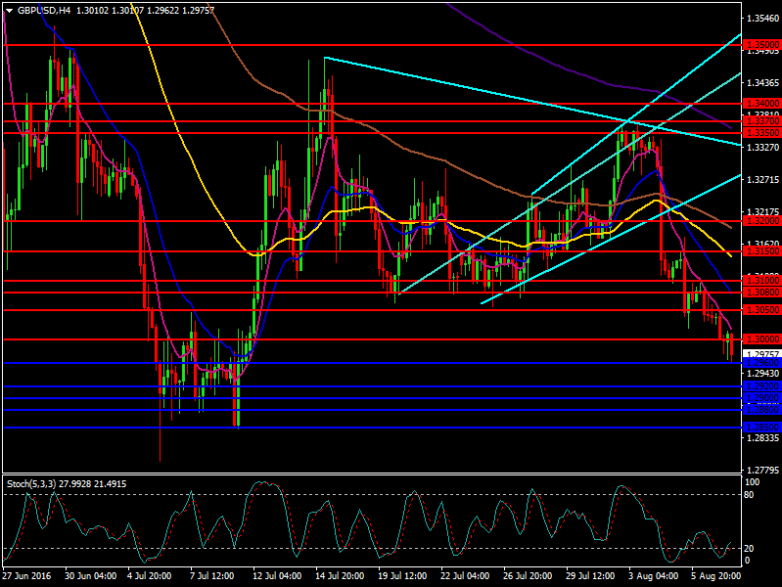 FTSE 100 spot index
The BoE's rate cut and easing measures has boosted UK stock prices. FTSE 100 spot index reached the highest level at 6832.90 on Tuesday 9th August since June 2015 as helped by banking stocks. It is currently trading above all the moving averages and the significant level at 6800.
On the 4 hourly chart, the FTSE 100 spot index has been oscillating in an uptrend channel since 30th June. The Bank of England's rate cut announcement on 4th Aug provided a lift to the index. The 8 EMA crossed over the 20 EMA since then. In addition, the price is moving along the upper band of Bollinger Band indicator, suggesting bullish momentum.
The current price zone is just above where the two significant resistances situate, the upside uptrend line and the level at 6800. It is trading around the previous high level of 6829.80, indicating selling pressure. It is likely to have a corrective pullback testing the 6800 support again before further rally, as the UK trade balance economic figures released today underperformed, also the one hourly and daily KD indicators are above 90.
Downside uptrend support line at 6811 followed by 6800, 6786, daily 8 EMA at 6760, and 6744.