Silver Spot
On Monday 22nd Aug, a rebound of the dollar weighed on silver, resulted from the hawkish comments made by Fed Vice Chairman Fischer. Silver spot opened low and broke the down trend channel, plunged to the intra-day low of 18.70, from the low of 19.761 on 19th Aug, a 5.4% fall. It has formed a head and shoulder pattern, suggesting increased upside selling pressure.
Yet the daily KD indicator is at below 20, and the daily CCI is also at a low level, suggesting a rebound prior to a further drop. It is currently testing the level at 19.00.
The upside resistance is at 19.20, followed by 19.50 and 19.80.
The downside support is at 18.80, followed by 18.30 and 18.00.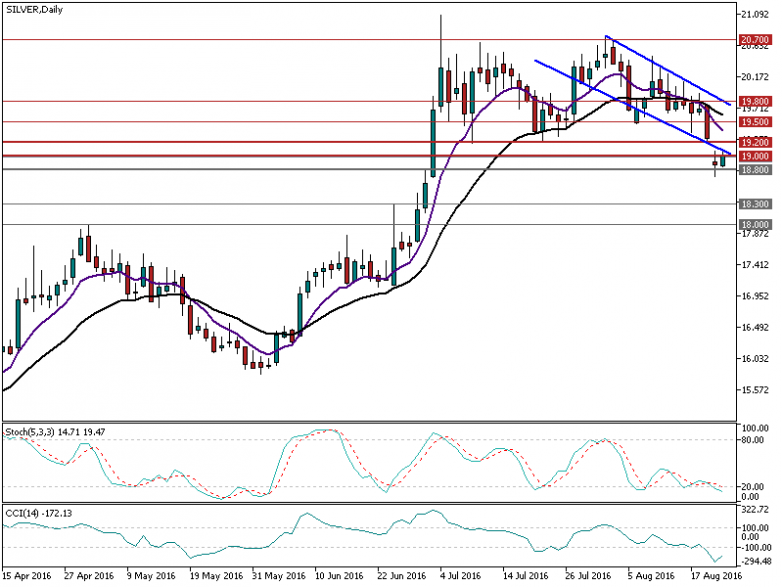 Gold Spot
Gold has turned into a consolidation pattern after hitting the high of 1375.06 on 6th Jul, its highest level since Mar 2014, implying the bullish momentum is dwindling. If the dollar keeps on rebounding, then it will weigh on gold. If the dollar falls again, then gold will likely rebound.
The upside resistance is at 1342, followed by 1345, 1350, 1355 and 1360.
The downside support is at 1335.50, followed by 1330, 1320 and 1310.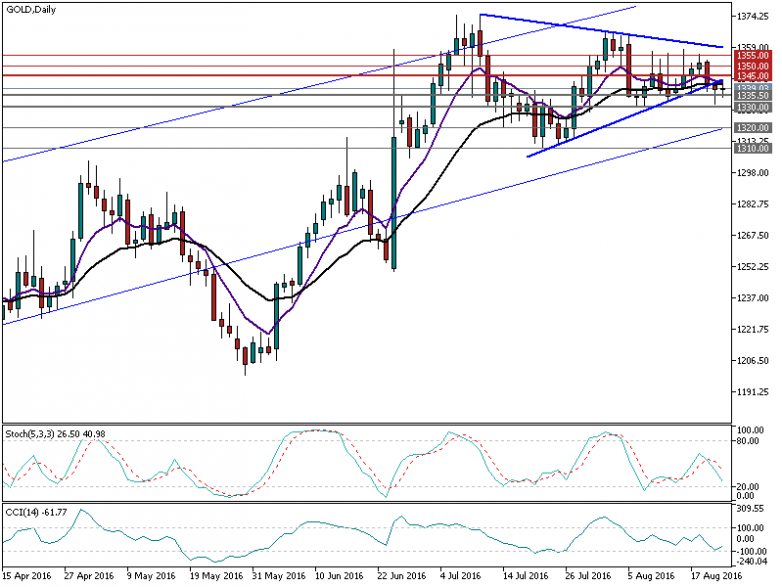 The Dollar Index
The dollar index rallied on 22nd Aug after the Fed Vice Chairman Fischer's hawkish commented that a rate hike by end of the year is still possible. Yet the price retraced immediately after testing the uptrend line resistance at 94.90, breaking the support line at 94.35 today, and testing the next support line at 94.20. The market expects only 15% chance of a rate hike in Sep, and 46% chance in Dec.
The US New Home Sales (MoM) and New Home Sales Change (MoM) for Jul and Manufacturing PMI for Aug, will be released, at 15:00 GMT 1 on Tuesday 23rd August.
The New Home Sales rose 3.5% to 592,000 in June, from 572,000 in May, reaching the second highest level since Feb 2008. New Home Sales has shown an uptrend since Sep 2015.
Both the 4 hourly and daily time frame KD indicators are below 30, indicating a rebound.
Keep an eye on the upcoming figures. With positive readings, the dollar index will likely rebound. EURUSD will likely pullback. While lower-than-expected figures, will likely pull the dollar index down and test the previous low of 94.03 on 18th Aug, followed by 94.20. EURUSD will likely rally and test the resistance at 1.1350.
The upside resistance level of the dollar index is at 94.35 followed by 94.73 and the major resistance at 95.00.