EURUSD
The ECB (European Central Bank) interest rate decision and monetary policy statement, will be released today at 11:45 and 12:30 GMT respectively.
The Eurozone economy remains tepid, and the inflation growth is still weak. The market expects the ECB to implement more stimulus measures in the coming months. The interest rate decision is more likely to remain steady at the current stage.
EURUSD has rallied since 6th September as the US ISM figure underperformed. It is currently trading in the range between the 1.1270 support line and 1.1300 resistance, where also the downtrend line resistance situates, implying selling pressure.
The RSI indicator is above 70, so be aware of a retracement.
The resistance level is at 1.1300, followed by 1.1320 and 1.1350.
The support line is at 1.1270, followed by 1.1240 and 1.1215.
Be aware of Draghi's statement in today's press conference, according to past experience, he might shock the market with unexpected wording. In that case, EURUSD will be volatile or have dramatic reversal.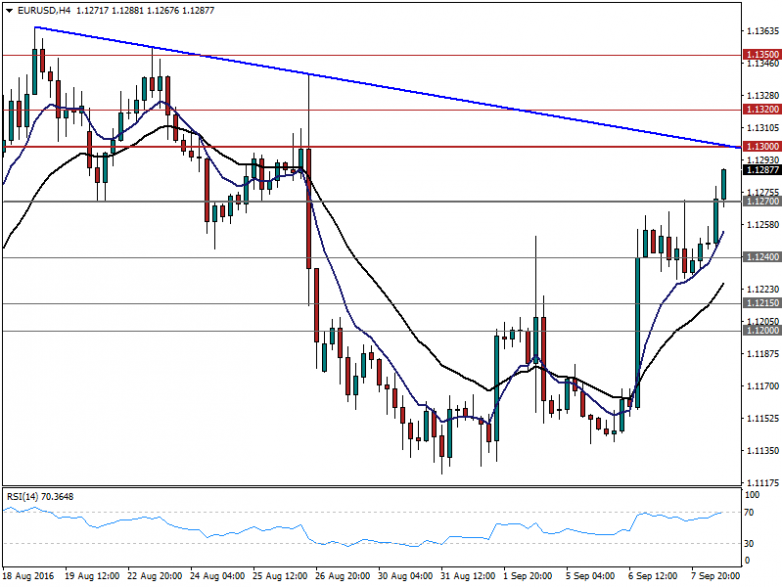 GBPUSD
Yesterday the Bank of England announced the Inflation Report, stating that the BoE will implement further QE when it is necessary. The performance of the UK economy after the Brexit vote so far has been a bit better-than-expected. Yet we need more subsequent data to have a clearer picture.
The current price is near the previous high on 14-15 July. 1.3470 is a significant resistance level. The current price action is oscillating in the range between 1.3400 and 1.3300.
The daily Stochastic Oscillator is above 70, suggesting a retracement.
The resistance level is at 1.3370, followed by 1.3400 and 1.3470.
The support line is at 1.3300, followed by 1.3270 and 1.3230.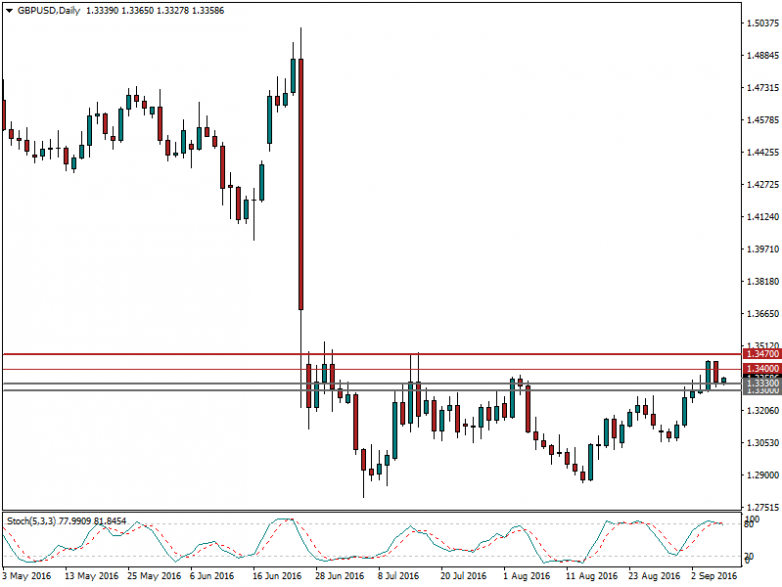 The Dollar Index (DXY)
The Fed Beige Book was announced yesterday. It stated that although the labour market is tight and wage level is rising, this was not helping lift inflation. In aggregate, the US economy is expected to grow at a moderate pace in the following months.
DXY has turned bearish since 06th September on the weak ISM figure. The significant support level at 94.73 was broken earlier today, where the medium term trend line support situates. The bearish trend is ongoing. The next support line is at 94.55, followed by 94.35, 94.18 and 94.00.
The price is trading below the 8 and 20 EMAs, suggesting upside selling pressure.
The daily time frame Stochastic Oscillator is below 20, and 4 hourly RSI indicator is around 30, suggesting a rebound.
The newly formed resistance level is at 94.73, followed by 95.00, 95.20 and 95.40.
Keep an eye on the US Initial Jobless Claim and the Continuing Jobless Claims figures, to be released at 12:30 GMT.