The dollar index has rebounded since 8th September after tested the support line at 94.50.
On 13th September, the index broke the downtrend line resistance and held.
The current price is oscillating in the range between the downtrend line support at 95.16 and the uptrend line resistance at 95.48.
The daily Stochastic Oscillator is around 70, be aware of a retracement and test the support line at 95.20.
Today at 12:30 GMT, we will get a set of US economic figures, including Retail Sales and Core Retail Sales (Aug), PPI and Core PPI (Aug), Industrial Production (Aug), Initial Jobless Claims, and Philadelphia Fed Manufacturing Index. Keep an eye on the figures as it will influence the strength of the dollar.
The resistance level is at 95.40, followed by 95.47, 95.60 and 95.80.
The support line is at 95.20, followed by 95.00 and 94.73.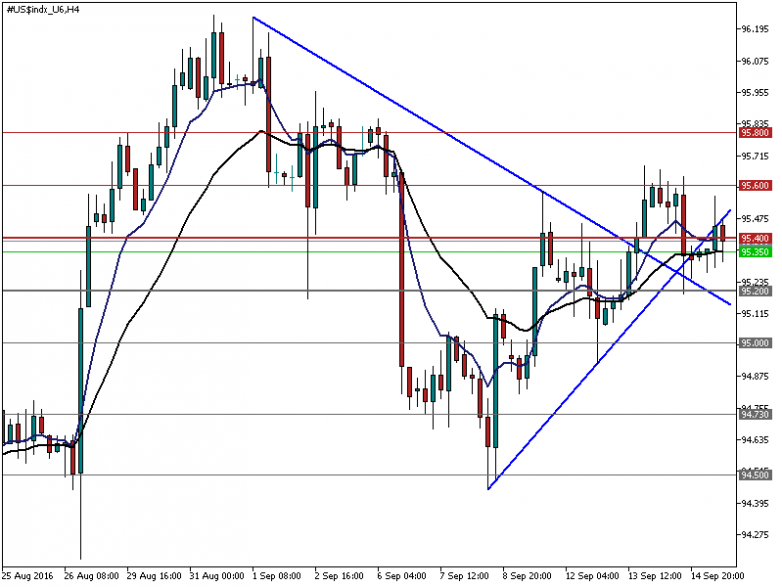 EURUSD has formed a consolidation pattern, oscillating in a range between the support at 1.1200 and the resistance at 1.1270.
The resistance level is at 1.1240, followed by 1.1270, 1.1280 and 1.1300.
The support line is at 1.1215, followed by 1.1200, 1.1187 and 1.1157.
Keep an eye on the set of US economic data, will be released later, as it will likely influence the trend of EURUSD.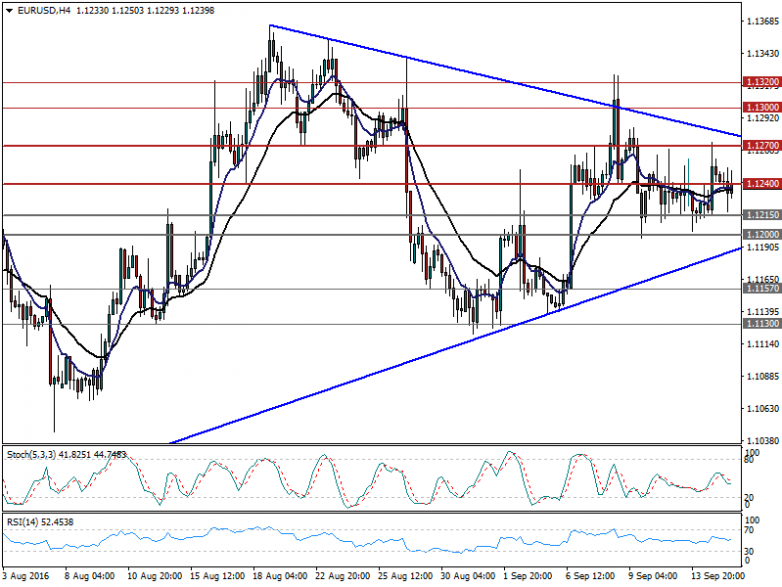 This morning released the UK Retail Sales and Core Retail Sales figures for August (YoY and MoM), better-than-expected.
After the figures released, GBPUSD rebounded from the support level at 1.3200, and touched the resistance level at 1.3250. It is currently testing the level at 1.3230.
GBPUSD has turned bearish on 13th September after broke the major uptrend line resistance, the current price is still trading below. The selling pressure between 1.3250 and 1.3270 is heavy.
The resistance level is at 1.3250, followed by 1.3270 and 1.3300.
The support level is at 1.3230, followed by 1.3200, and 1.3160.
Later at 11:00 GMT, the Bank of England will announce interest rate decision, monetary policy summary, and minutes.
As the BoE has raised rates not long ago on 4th August, also the post-referendum economic indicators so far have shown that at the current stage, the UK economy withstands the Brexit shock. Therefore, it is likely that the rates will keep unchanged at this meeting.