USDJPY has turned bearish since 6th September as the downtrend line and the support level at 102.00 were both broken. 102.00 has turned into the major resistance level, the upside selling pressure is heavy.
The Bank of Japan and the Fed will announce interest rate decisions and monetary policy statements early morning and at 18:00 GMT tomorrow respectively. According to Nikkei report, the BoJ may consider further negative rates as the focus of future monetary policy measures. The announcements from two central banks will influence the trend of USDJPY.
The resistance level is at 102.00, followed by 102.40 and 102.70.
The support line is at 101.50, followed by 101.30 and 101.00.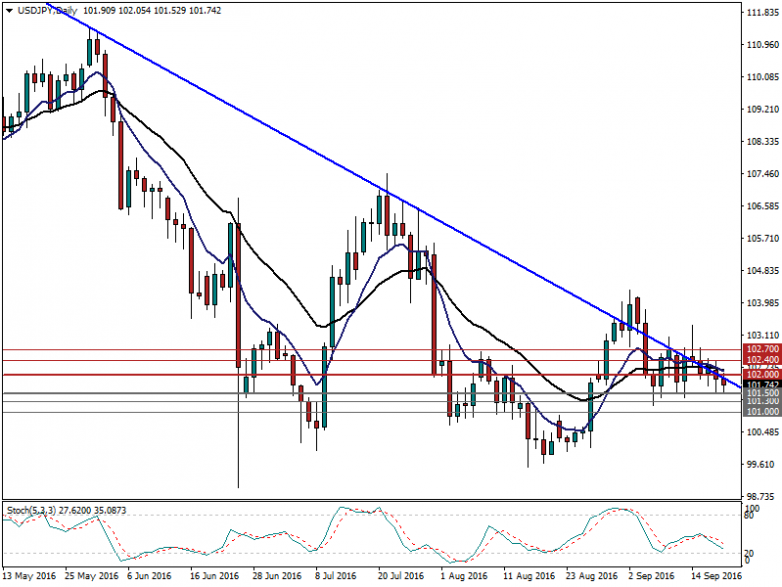 S & P 500 cash index has turned bearish since 9th September due to the Boston Fed's hawkish comment.
It is currently trading in the range between the downside uptrend line support, and the major resistance level at 2150.
Keep an eye on the Fed interest rate decision and monetary policy statement, will be released at 18:00 GMT tomorrow, as it may cause volatility for the S & P 500 index.
The resistance level is at 2150, followed by 2160 and 2170.
The support line is at 2130, followed by 2120 and 2110.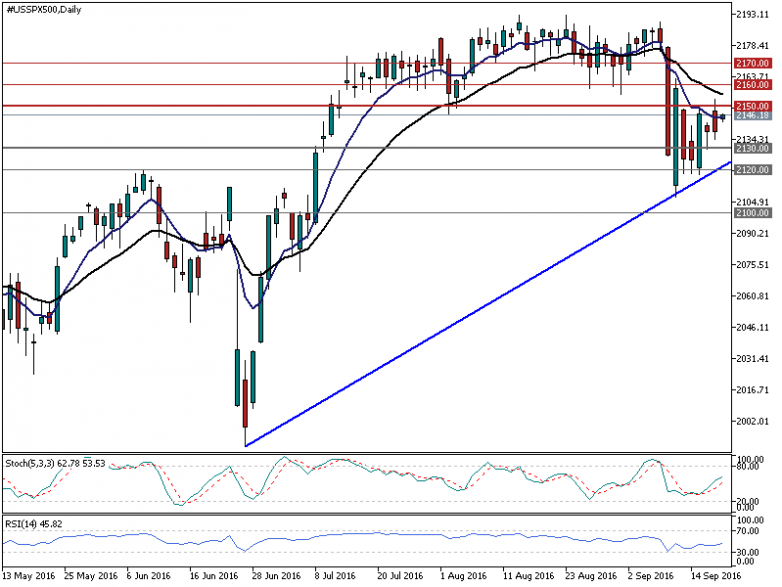 RBA (Reserve Bank of Australia) released the Meeting Minutes this morning, indicating that the economic growth remains in line with expectations, despite the decline in business investment in Q2. The current monetary policy was consistent with sustainable economic growth and achieving the inflation target over time.
The Aussie has strengthened since 15th September after testing the significant support line at 0.7450. The bullish momentum continued this morning helped by the positive statement of the Minutes.
It is currently testing the major resistance level at 0.7550, where the 20 and 50 day moving averages converge. The selling pressure is heavy at this level.
The resistance level is at 0.7550, followed by 0.7590 and 0.7630.
The support line is at 0.7500 followed by 0.7450 and 0.7400.