The Bank of Japan announced that rates remain unchanged at -0.01%, and the rate of government bonds purchase remains at 80 trillion yen a year. Additionally, the monetary policy framework and focus have been amended.
USDJPY plunged after the BoJ announced that the rates and stimulus measures remain unchanged, testing the significant support line at 101.00. Followed by a sharp rebound as the BoJ stated subsequently that it aims to expand the monetary base until the inflation becomes stable above its 2% target.
The market's disappointment and concerns on whether the BoJ has reached its limit, triggered an appreciation of the yen. USDJPY retraced after testing the significant resistance level at 102.70, where the downtrend line resistance converges, recovering the previous gain.
The current major resistance level is at 102.00, where the 8 and 20 day moving averages converge, the pressure at this level is heavy.
The bearish momentum is still ongoing, currently testing the major support line at 101.50. if it is confirmed broken, the next support level is at 101.30.
The daily Stochastic Oscillator is below 30, suggesting a rebound.
The resistance level is at 101.88, followed by 102.00, 102.40, 102.70.
The support line is at 101.50, followed by 101.30, 101.00 and 100.50.
Keep an eye on the Fed interest rate decision and wording of the monetary policy statement, which will be released at 18:00 GMT today, as it will cause more volatility for USDJPY.
The market expectation is that the Fed will keep rates unchanged. Yet with a rate hike, it will shock the market, the dollar will strengthen across the board, and weigh on precious metals and equities.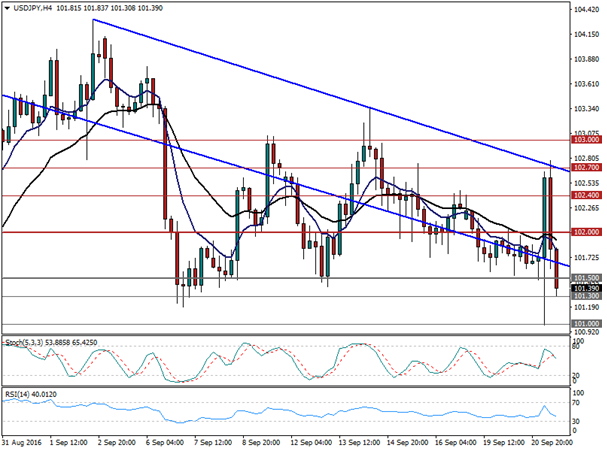 EURUSD turned bearish after breaking the uptrend line support on 16th September as the dollar strengthened.
The current price is still trading above the significant support line at 1.1100.
The 4 hourly and daily Stochastic Oscillators are both at a low level, suggesting a rebound.
The resistance level is at 1.1157, followed by 1.1175, 1.1200 and 1.1215.
The support line is at 1.1130, followed by 1.1100, 1.1070 and 1.1040.
Keep an eye on the Fed announcement today, as it will cause volatility for EURUSD.