AUDUSD rallied since 28th October after testing the support line at 0.7550.
The range between 0.7500 – 0.7550 is the major support zone.
Yesterday the price broke the resistance level at 0.7700, yet it retraced after testing the mid-term major resistance zone between 0.7730 – 0.7760.
Today the price fell below the level at 0.7700.
The daily time frame Stochastic Oscillator is above 80, suggesting a retracement.
The resistance level is at 0.7700, followed by 0.7715, 0.7730 and 0.7760.
The support line is at 0.7690, followed by 0.7680, 0.7660 and 0.7640.
Today is the US presidential election day, be aware that during the process of calculation and when the result is released, it will likely cause volatility in all the dollar crosses.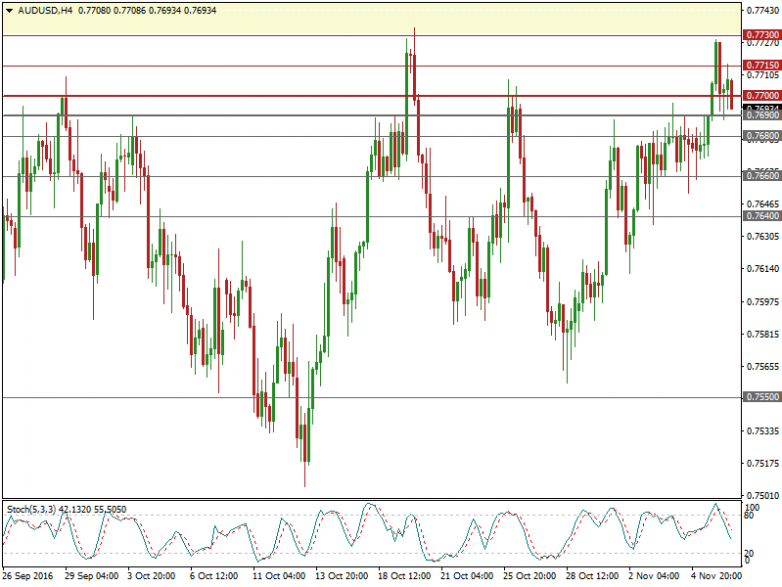 WTI has plunged 15.94 % from 19th October to 4th November. It dipped just below the significant support line 45.00 before rebounding, as the level is providing a strong support.
The daily Stochastic Oscillator is around 30, suggesting a rebound. Yet the price is likely to test the support line at 45.00 again prior to a rebound.
In terms of the fundamentals, the oversupply issue remains unsolved, some OPEC countries' output even see an increase every month. OPEC will hold another meeting in Vienna on 30th November to discuss about the details of freezing output. Before a concrete agreement is made, the oversupply issue still exists, the long term trend of oil still remains bearish.
The resistance level is at 45.50, followed by 46.00 and 46.30.
The support line is at 45.00, followed by 44.40 and 44.00.