When polls showed that Trump was ahead of Clinton, the dollar plunged, most major currencies rallied against the dollar. Since it was clear that Trump won the election, the dollar started rebounding, and recovered most of the intra-day loss as Trump made a speech to stabilize markets.
Markets still have concerns about the uncertainty for the US and global economic outlook, be aware that markets are likely to remain volatile for an extended period of time.
EURUSD has been oscillating in an uptrend channel since the end of October. The bullish momentum has strengthened as the dollar weakened, the upper band resistance of the channel was broken in early November. Yet the price retraced and fell below the lower band support of the channel, as the dollar rebounded.
The dramatic move of the US election night, resulting in EURUSD surging from intraday low of 1.0989 to intra-day high of 1.1298, more than 300 points. Yet it was followed by a deep retracement, recovered most of the previous gain.
The current price is trading above the near term significant support line at 1.1000, which is providing a strong support. The near term support zone is between 1.1000 – 1.1030. The price is likely to rebound when nearing the level.
The resistance level is at 1.1080, followed by 1.1100 and 1.1120.
The support line is at 1.1060, followed by 1.1030 and 1.1000.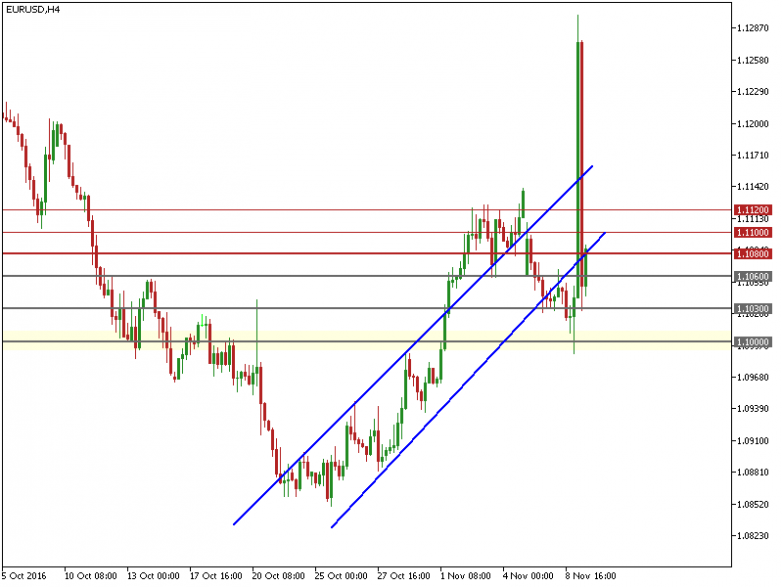 Gold has turned bullish since mid-October after testing the downside uptrend line. It has seen a substantial gain in the first week of November due to the uncertainty of the US presidential election and risk-off reason.
Yet it retraced as FBI announced that no criminality in Clinton's email, after testing the resistance level at 1306.00.
We have seen substantial volatility in gold prices, as a result of the volatility from the dollar on the election night. Gold has formed a consolidation pattern, the near term price is likely to oscillate in this range.
The resistance level is at 1306.00, followed by 1310.00 and 1315.00.
The support line is at 1300.00, followed by 1295.00 and 1290.00.