EURUSD hit 10 months low of 1.0727, broke two significant support levels during Asian sessions today, which are the mid-term and long term levels at 1.0850 and 1.0800 respectively, due to the recent substantial gain of the dollar. The upside selling pressure has been increasing.
On the 4 hourly chart, the price has been moving along the lower band of the Bollinger Band indicator, suggesting ongoing bearish momentum.
This morning we saw the release the Eurozone Industrial Production (Sep), which was better than expectations. The figures helped EURUSD to have a moderate rebound, yet the upside pressure is heavy. The subsequent trend of EURUSD depends on the strength of the dollar.
Also ECB president Draghi will make a speech today, at 15:00 GMT, we can expect that it will cause volatility to EURUSD.
The resistance level is at 1.0770, followed by 1.0800 and 1.0850.
The support line is at 1.0750. followed by 1.0720 and 1.0700.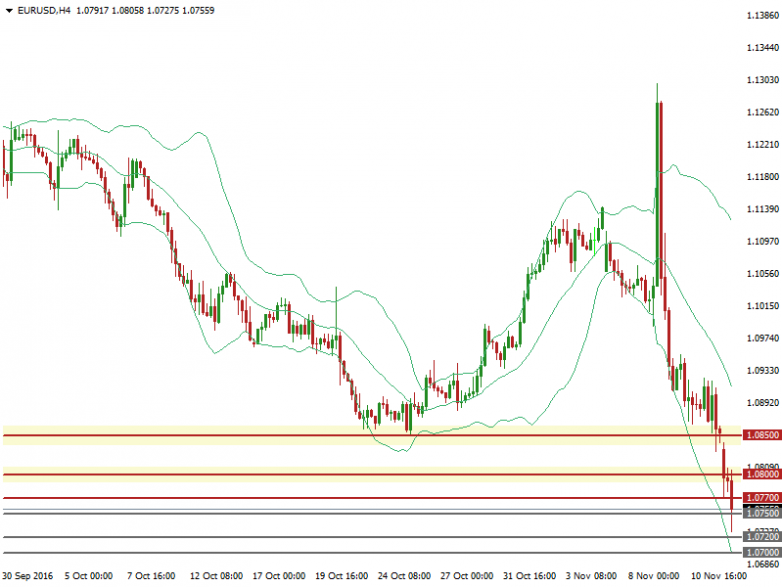 EURJPY has turned bullish since 24th October, trading above the newly formed uptrend line support.
This morning the better-than-expected Eurozone Industrial Production YoY and MoM figures (Sep) help EURJPY rally and hold above the level at 116.00.
Yet the price is nearing the mid-term major resistance level at 116.50, the bullish momentum is likely to be restrained at this level. If it is confirmed broken, the next resistance level is at 117.00.
The resistance level is at 116.20, followed by 116.50 and 117.00.
The support line is at 116.00, followed by 115.50 and 115.00.
The ECB president Draghi will make a speech today, at 15:00 GMT, it will likely influence the trend of EURJPY.