GBPUSD has been bullish since the end of October, trading along the downside uptrend line support.
This morning we saw the release of a set of important UK economic figures, including CPI and Core CPI YoY (Oct), were 0.9% and 1.2%, both lower than expectations of 1.1% and 1.5%.
The underperforming CPI figures weighed on Sterling. GBPUSD broke the downside uptrend line support, also the price is moving toward the lower band of the Bollinger Band indicator, indicating the bearish momentum is strengthening.
The support level at 1.2400 is likely to provide a stronger support. Yet if the dollar keeps on strengthening, then it will keep on weighing on GBPUSD.
Keep an eye on the US Retail and Core Retail Sales figures (MoM) for October, to be released at 13:30 GMT today. It will influence the strength of the dollar and the trend of GBPUSD.
The resistance level is at 1.2420, followed by 1.2450 and 1.2470.
The support line is at 1.2400, followed by 1.2380 and 1.2360.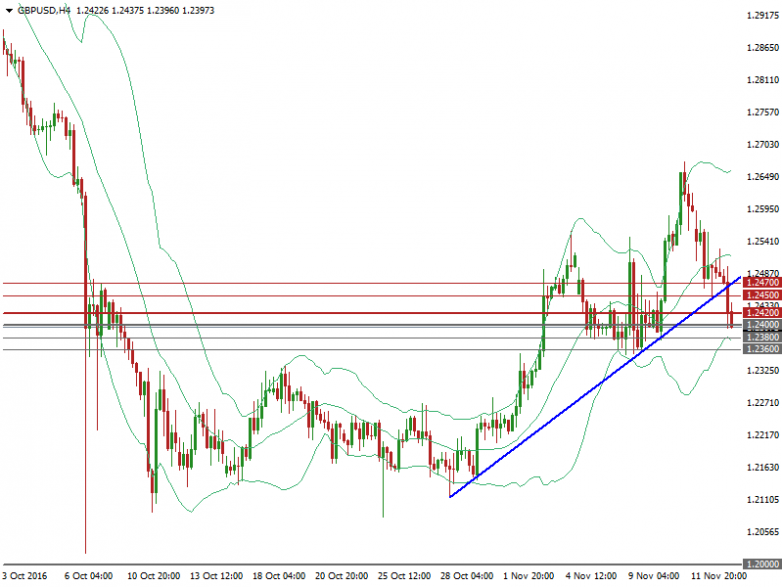 GBPJPY has been bullish in the past two weeks, as Sterling strengthened.
Yet the current price is trading below the mid-term major resistance zone between 135.00 to 136.00, the selling pressure is heavier at the level, the bullish momentum is likely to be restrained here.
In addition, the daily time frame Stochastic Oscillator is above 90, suggesting a retracement.
The resistance level is at 134.50, followed by 135.00 and 135.50.
The support line is at 134.00, followed by 133.50 and 133.00.