The S & P 500 index has seen substantial gain post the US election.
The trend remains bullish, yet the current price is trading below the near term major resistance zone, between 2190 – 2200, the selling pressure is heavier at this level. The bullish momentum is like to be restrained at this level.
The 4 hourly and daily Stochastic Oscillators are both above 80, suggesting a retracement.
The resistance level is at 2180, followed by 2190 and 2200.
The support line is at 2170, followed by 2160 and 2150.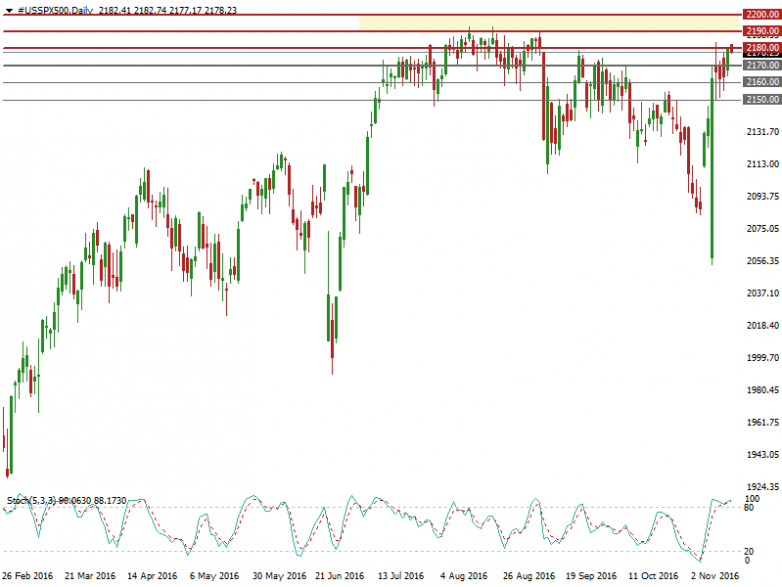 USDCAD has retraced since 14th November, after testing the significant resistance level at 1.3600.
The price rebounded after testing the support level at 1.3430, as the range between 1.3400 – 1.3430 is the near term major support zone, which is providing a strong support level. The price is likely to hold above this level.
Yet the current price is nearing the 10 SMA, where the resistance level at 1.3480 converges, the bullish momentum is likely to be restrained at the level. If the dollar keeps on strengthening, then the level will likely be broken.
The current trading pattern is likely to oscillate in a range between 1.3400 – 1.3500.
The 4 hourly Stochastic Oscillator is around 30, suggesting a rebound.
The resistance level is at 1.3480, followed by 1.3500 and 1.3520.
The support line is at 1.3450, followed by 1.3430 and 1.3400.
Keep an eye on the US Industrial Production (MoM) and Capacity Utilization for October, as it will likely influence the strength of the dollar and the trend of USDCAD.