The Fed announced the beginning of a reduction in their massive holding of bonds and mortgage-backed securities starting in October, citing the impact of the recent hurricanes on the economy as temporary and not detrimental to overall economic growth. The scale of reductions will gradually increase, starting from 10 billion USD a month and reaching 50 billion USD within a year. Under existing conditions, the Fed's balance sheet will decrease by $300 billion to $4.2 trillion. If the program remains as is, allowing the balance sheet to decrease by $50 billion a month, it is predicted that it will take 6.5 years to reach pre-crisis balance levels of approximately $900 billion.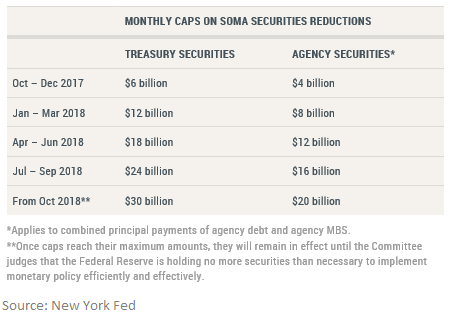 However, it is unlikely that the committee intends to reduce the balance to pre-crisis levels. The target may well be around $2.0-$2.5 trillion, which will take 46-56 months to achieve. Much is assumed that the decline in the balance will occur along with uninterrupted economic growth. US economic growth has continued since 2009, it therefore requires as much as 15 years of persistent growth to get the FOMC's balance sheet to pre-crisis level.
Such a long period of uninterrupted growth has not been experienced in modern history. This situation, with almost impracticable plans to reduce the balance during one cycle of economic growth, has two conclusions: Firstly, the Fed could have plans for further increases in the scale of the program. Secondly, the Fed does not want to return its balance sheet to $2-2.5 trillion but is, instead, targeting far higher levels.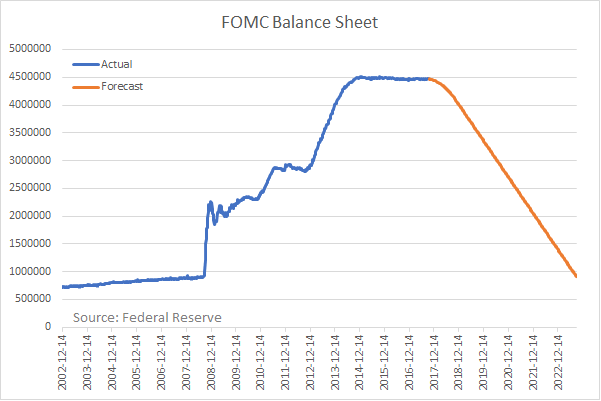 News about the beginning of the reduction of the balance sheet, together with forecasts of a rate increase this year and three hikes in 2018, helped USD to strengthen sharply yesterday. It is very likely that the USD will continue to strengthen in the next few days/weeks as the market will look to interest rates futures mirroring the hawkish Fed tone. Prior to the Fed's announcement, market expectations suggested the next rate hike in March 2018, followed by one in the second half of 2018.
However, the USD appears to be facing long-term problems, as the Fed continues to reduce its target rate forecasts. These have now been revised down to 2.8% from 3.0% in June, also down from the 4.2% of April 2012, when such forecasts were initially published.
In summary, despite the visible current hawkish position of the Fed, which helped USD yesterday, and may continue to do so in the near future, the long-term outlook for the U.S. currency for the next 3-6 years is clearly worse than that of its competitors due to the understanding that the Central Bank is unlikely to raise interest rates as much as in previous cycles of monetary tightening. Moreover, the Fed would probably do its tightening more gradually than its competitors such as the ECB, the Bank of Canada or the Bank of England.