Undoubtedly, the September U.S. Nonfarm Payrolls were shockingly bad. At the beginning of the previous week, analysts had expected a growth of 90K, with a series of very strong releases of business activity indicators in the U.S. significantly raising expectations. On Thursday, we had even observed some markets rallying as U.S. assets were on particularly high demand.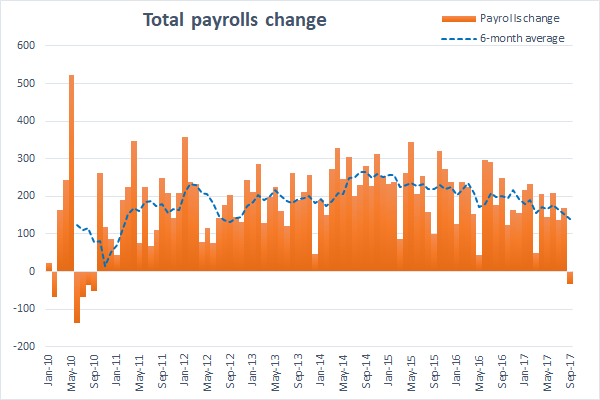 Last Friday's NFP release showed how hasty those purchases were. Nonfarm Payrolls decreased by -33K, while data for the previous two months was revised down significantly. This is the first such decline since 2010, while the downward revision of July NFPs cannot be attributed to the recent hurricanes.
The increase in employment in the manufacturing sector between June-August originally amounted to 83K. Following revision, this figure dropped to 51K.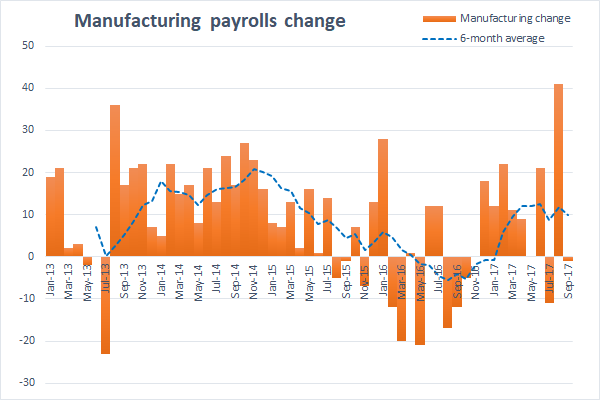 Nonetheless, the dollar initially climbed higher as trading robots reacted to the sharp drop in the Unemployment Rate, which fell to 4.2% from 4.4%. In September, wages also reached 0.5%, while annual growth pace accelerated to 2.9%, the highest since December 2016.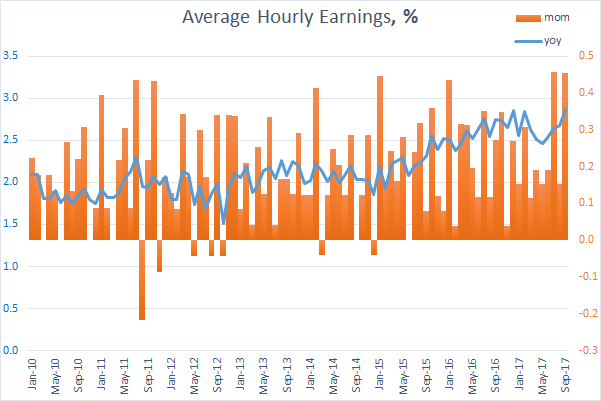 Last Friday we saw just how great the disparity can be between different estimates. A household survey (unemployment rate, participation rate and number of employed in the household) showed a stronger economy. At the same time, what came as most positive in the performance of U.S. firms was the increase in average hourly earnings. Total production (index of worked hours) has remained around the same levels since June.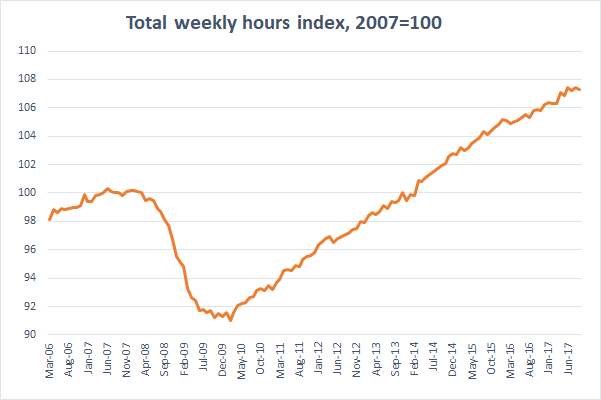 The increase in average hourly earnings could be what pushes the Fed to a rate hike. However, the shock that came with such a weak jobs report and the downward revision of previous estimates could potentially affect the Fed's decisions and once again throw the prospects of a March 2018 policy tightening into question.
A rate hike in December is considered almost inevitable by the markets, but it no longer seems to help the dollar. Long-term expectations are now becoming more important as markets attempt to look further into 2018.
Following the NFP release, EURUSD fell by 40 points to 1.1670 before dollar performance reversed and the pair returned to trading above 1.17. Nonetheless, last Friday's releases had a significant impact on risk sentiment, as well as on oil prices.