Yesterday, the markets displayed major signs pointing towards a strong oil growth momentum, including Brent price nearing important resistance level of previous highs, anxiety regarding supplies in the Middle East, the dollar falling against most competitors, while U.S. data revealed a significant fall in crude production by almost 1.5 million barrels per day and a drop in inventories by 5.7 million barrels by week, 16.4 in 4 weeks.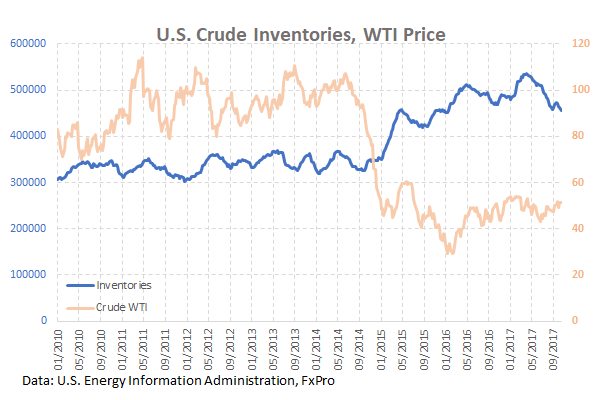 Yet, this was not enough to send oil to previous peak values. Rather, oil price reversed in the second half of the day, with the trend continuing today.
This downward trend irrespective of what would be considered positive factors is not unusual during the September-December period, while oil price is often seen to rise between February and May in spite of the weak statistics that often come out during these months. It is probable, then, that what we are seeing is the seasonal factors in play against oil.
Large players usually make adjustments to their positions during the low season, when gasoline consumption is not as high as in the summer. Although oil does sometimes rise in price during this period, higher prices are usually observed against the backdrop of a sharp acceleration in U.S. economic growth.
These days what we are facing is a fundamentally different situation, with economy growing but not accelerating. What's more, the recent Retail Sales and Employment reports seem to have done much to set a disappointing and cautious tone.
Technical analysis has hinted at the need for oil corrections during the past few weeks. What seems to be the case is that bulls did not manage to succeed in driving the price to $60-levels, presumably too exhausted after struggling against a strengthening dollar earlier in September–October.
For now, it seems that any dreams for Brent reaching the $60 mark are put on hold, potentially until next year, when traders and producers begin preparations for a new high season.