The markets are now waiting for Friday's employment data for the month of October. September's numbers were shockingly poor, with NFP coming in at -33K, and analysts are suggesting that the labour market will now be attempting to make up for the previous negative figures. Though the least predictable, the employment report is deeply significant and often leads to violent market reaction. Let's look at several potential scenarios regarding tomorrow's releases.
The average market forecast for this week's Nonfarm Payrolls is at 311K, while the March-August period average rests at 150K. This expected increase would seem to compensate for September's poor data, with last month's NFP coming in at -33K, and suggest a return to normal levels of employment growth. Weekly unemployment claims stats support an optimistic perspective, yet the expected figure remains difficult to justify, considering that it would mark the highest increase in more than two years.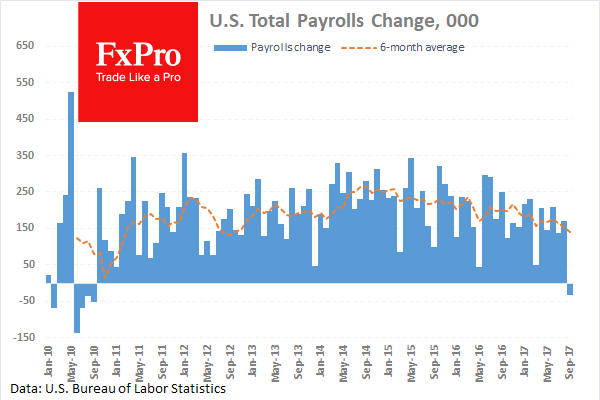 Perhaps what's most important is not employment figures, naturally distorted by the short-term impact of the recent hurricanes, but data on wages. The annual growth rate is expected to fall to 2.7%, down from 2.9%, yet the labour market deficit may trigger an increase in wages.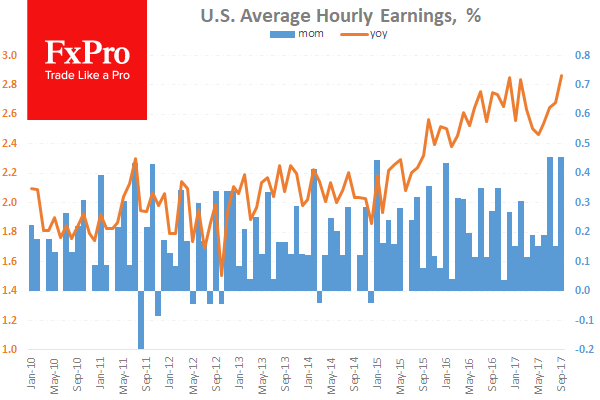 Strong employment growth data in excess of 300K, together with a wage growth rate above 2.7%, would be particularly positive for the markets in general and the U.S. dollar in particular, while speculation regarding next year's rate hikes is likely to strengthen.
A weak NFP number and strong data on wages would likely cause a mixed reaction in the markets, though wage data are perhaps more reflective of general trends in the country.
A weak NFP, coupled with a sluggish increase in wages, is expected to have a negative impact on the dollar. The currency would then have to fight off sales as markets could strengthen under the belief that, following December, they would have to wait until June 2018 for the possibility of a rate hike.