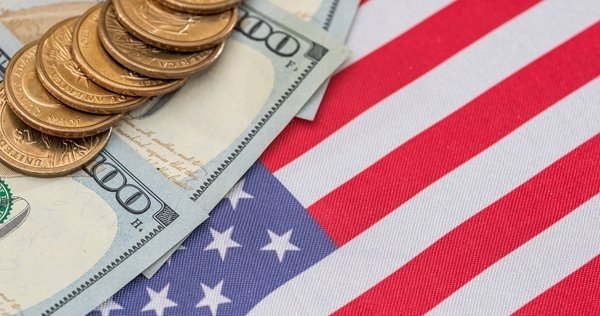 The US Labor Department released data on Wednesday showing the consumer price index edged up by 0.1% in October after climbing by 0.5% in September. The modest increase in consumer prices was in line with market expectations. CPI excluding food and energy prices climbed by 0.2% in October after inching up by 0.1% in the previous month – as expected by the markets. The US Commerce Department released data showing that US retail sales rose by 0.2% in October after spiking by an upwardly revised 1.9% in September. This slight increase beat market expectations and gives more justification for the Fed to hike rates in December as the markets are >90% expecting. Such data should have boosted USD but that was countered on news that the Senate Republican tax plan received opposition from two Republican lawmakers, a possible warning sign for the plan. This is more damning as the Republican party can't lose more than 2 votes from their ranks for the reform proposal to pass.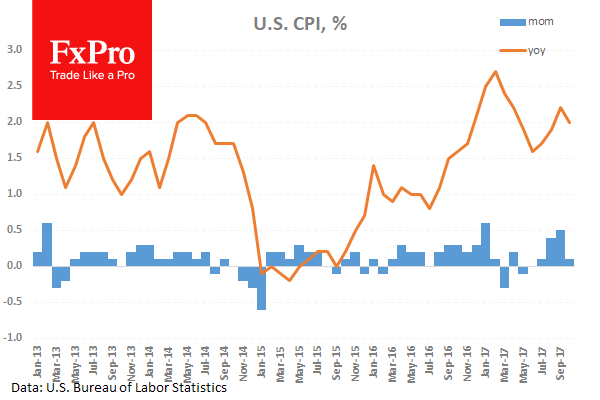 Data, on Wednesday, from the UK Office of National Statistics (ONS) showed UK unemployment holding at 4.3%, unchanged in the last 3 months and at its lowest rate for 42 years. The ONS also released average earnings data that, year-on-year, climbed to 2.2%. Whilst average earnings are rising, the gap to UK inflation is concerning for monetary policymakers. Currently, UK inflation is running at an annualized rate of 3% which means that real average earnings, adjusted for inflation, have dropped 0.4% from a year ago. The Bank of England Monetary Policy committee will need to digest the current, and future data, before making any change in monetary policy.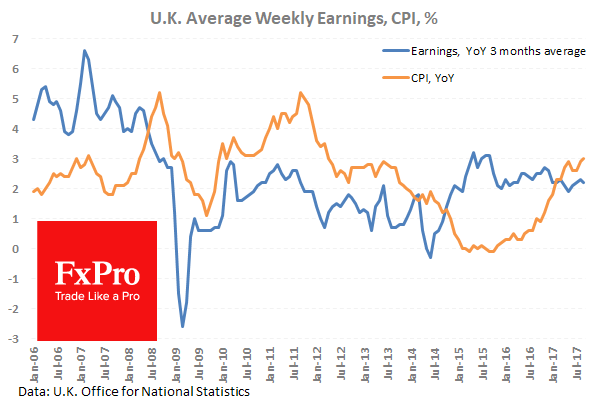 The Japanese Ministry of Economy, Trade and Industry released data showing Japan's industrial production declined less than forecast in September. Industrial production dropped to a seasonally adjusted monthly 1% in September, beating the 1.1% decrease reported earlier. This was followed by a 2% rise in August.
EURUSD is 0.1% lower in early Thursday trading at around 1.1778.
USDJPY is 0.2% higher in early session trading at around 113.10.
GBPUSD is little changed in early trading at around 1.3172.
Gold in unchanged overnight, currently trading around $1,277.
WTI is 0.15% higher in early trading at around $55.56.
Major data releases for today:
At 09:30 GMT, UK National Statistics will release Retail Sales (MoM & YoY) for October. Month on Month data is forecast to come in at 0.1%, an improvement on the previous release of -0.8%. Year on Year data is forecast at -0.6% a significant drop from the previous release of 1.2%. The markets will likely see GBP volatility on the data release.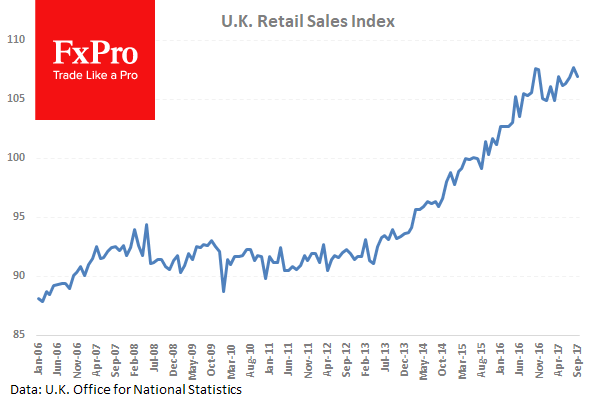 At 10:00 GMT, Eurostat will release CPI and CPI Core (YoY) data for October. CPI is expected unchanged at 1.4% with Core CPI forecast at 0.9%, lower than the previous release of 1.1%. Expect EUR volatility if the actual release is significantly different from the forecast.
At 13:30 GMT, the US Department of Labor will release Initial Jobless Claims for the week ending November 10th along with Continuing Claims for the week ending November 3rd. Continuing claims are expected lower at 1.895M compared to the previous release of 1.901M. Initial Jobless Claims are forecast to come in at 253K, a slight reduction from the previous release of 239K. If the data is significantly different from expectations the markets will experience USD volatility.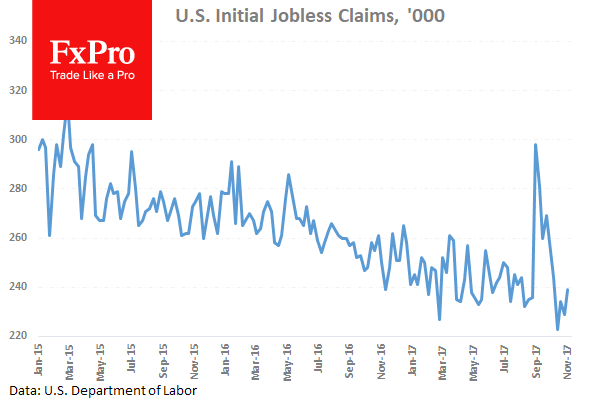 At 14:00 GMT, Bank of England Governor Mark Carney is scheduled to speak at the Future Forum at St. George's Hall, Liverpool, England.