Yesterday, the ruble managed to keep resistance levels at 60.50 for USDRUB. During the day, the currency pair lost 0.9%, down to 59.68, as oil fell by 1.3% to $61.10 per barrel (Brent). This could be viewed as a clear sign of the Russian currency's strength, as its movements occurred alongside a decline in oil price. The ruble was seen to decisively lose its dependence on the short-term dynamics of Crude. Essentially, what we saw yesterday was a repeat of the trend observed over the last few weeks, that is, the ruble and oil price moving in different directions.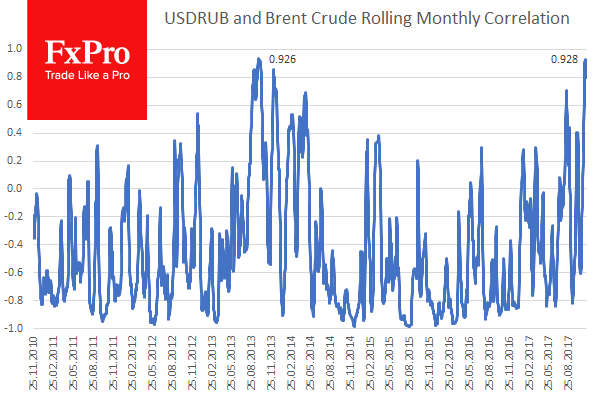 In November 2014, the correlation between USDRUB and oil was close to -0.85, reflecting the very close dynamics between the latter and the Russian currency. In November 2017, this correlation turned sharply positive, exceeding 0.93 last week and reaching 0.8 today. With the correlation reversed, the weakness in oil prices no longer translates into a weakening of the ruble. Rather, the ruble seems to be increasingly reliant on factors such as global risk appetite and Russian economy indicators.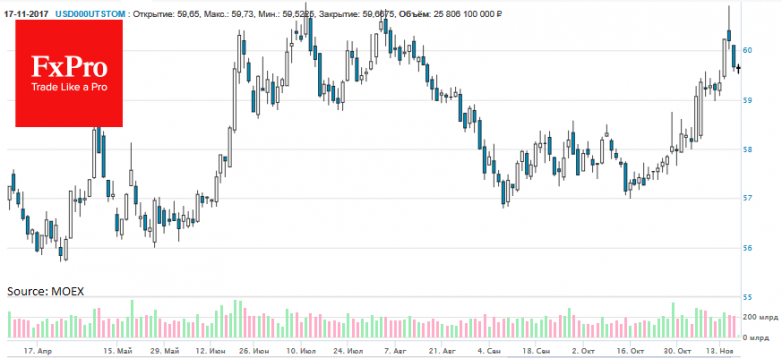 Yesterday's sharp pullback could positively affect how traders perceive the Russian currency, seemingly having approved of the 60.50 level as a particularly strong resistance level. Bulls are also supported by positive global stock market dynamics that demonstrate growth in strong corporate reports.
Thus, while the impact of oil prices on the ruble seems to have diminished, the factors that positively affected the Russian Currency on Thursday are likely to support the ruble during Friday trading as well.