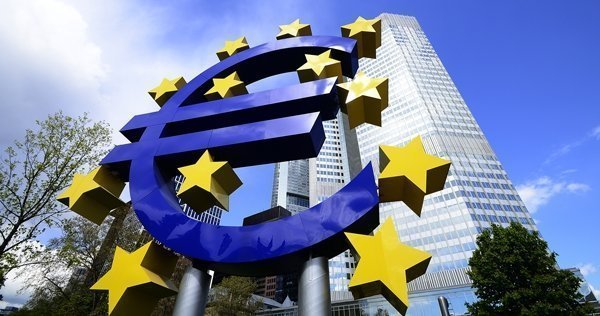 Speaking at the Frankfurt European Banking Congress, ECB President Mario Draghi, commented that "although the eurozone economy was robust" recovery was still heavily reliant on stimulus from the European Central Bank. He stated that positive economic growth alone was not enough to allow the ECB to increase the pace of monetary policy normalization. The current lackluster inflation growth is causing withdrawal of stimulus to be slow. He commented that "Despite this progress on the real side of the economy, from a monetary policy perspective our task is not complete, as we have not yet seen a sustained adjustment in the path of inflation".
On Friday, data from the US Census Bureau showed that the rate of new home construction in the US rose sharply in October. New Housing Starts rose a healthy 13.7% in October (from September), as the negative impacts of the summer hurricanes appear to have been overcome. The annualized rate climbed to 1.29 million, beating forecasts of 1.19 million. The increase ended 3 consecutive monthly declines. The more forward-looking dataset of New Home Permits rose 5.9% to a rate of 1.3 million, indicating that the housing industry is growing at a healthy pace as the US economy is strengthening.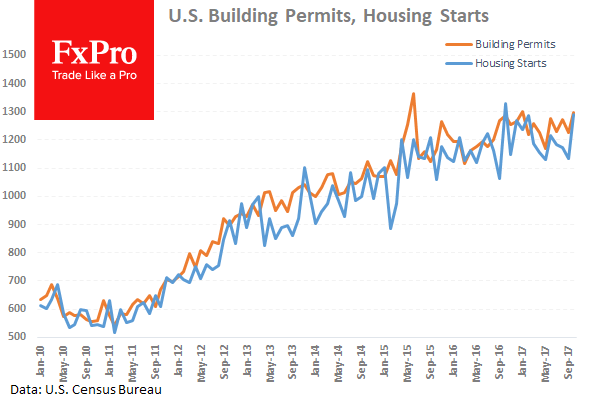 Statistics Canada released data on Friday showing the consumer price index was up 1.4% in October compared with a year ago, following a 1.6% increase in September. The Bank of Canada, which uses a 2% inflation target in setting monetary policy, raised its key interest rate target twice this year following strong economic growth to start the year. The markets expect growth for H2 to come in at a slower pace and the BoC has suggested that while further rate hikes are likely, they will be cautious and pay close attention to the incoming economic data. The markets do not expect a rate hike until the end of Q1 next year at the earliest.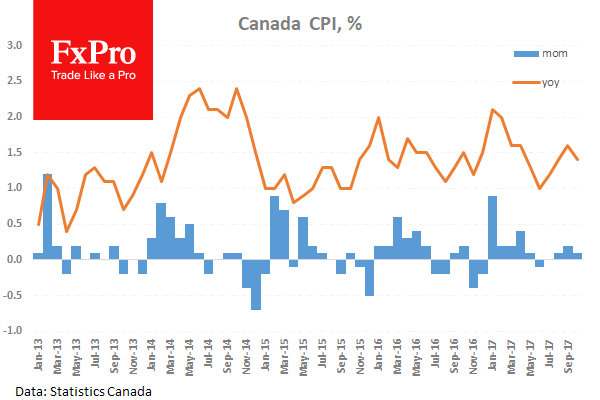 Officials from the US, Canada and Mexico have been meeting in Mexico City for the 5th of 7 planned rounds to update the North American Free Trade Agreement (NAFTA), from which President Donald Trump has threatened to withdraw. The US Administration has, apparently, made demands that other members have deemed unacceptable. With negotiations ongoing, it appears that all sides are far from agreement, which is likely to cause, in particular, volatility in MXN as Mexico appears to be the largest economic loser if the US does indeed withdraw.
EURUSD is 0.5% lower in early Monday trading at around 1.1730.
USDJPY is little changed from Friday's close, currently trading around 112.05.
GBPUSD is 0.1% lower in early session trading at around 1.3200.
USDMXN is 0.14% higher, currently trading around 18.9350.
USDCAD is 0.2% higher in early Monday trading at around 1.2790.
Gold is 0.16% lower, currently trading around $1,291.75.
WTI is little changed in early trading at around $56.77.
Major data releases for today:
At 18:00 GMT, ECB President, Mario Draghi, is scheduled to provide an introductory statement at the ECON Hearing of the European Parliament in Brussels, Belgium.