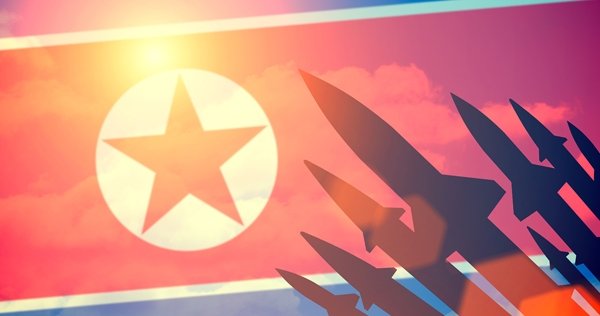 Earlier today, North Korea launched an ICBM that flew higher and further than any previous test firing. The missile was launched from just north of Pyongyang, reaching a height of nearly 3 kilometers and landed 600 miles east, in the Sea of Japan. This latest test firing, 2-months on from the last, is a direct challenge to President Trump, with the US Defense Secretary, James Mattis, commenting that the latest test firing demonstrates that North Korea has the ability to hit "everywhere in the world". Early comments from Trump have been that the US "will handle" the situation. Trump also said, "We will take care of it," adding later that North Korea "is a situation that we will handle." This latest test appears to have had little effect on the markets with USD holding steady and only a slight demand for safe-haven Gold.
USD received a boost following news that the prospects for a US tax cut have improved after Senate Republicans forcibly pushed forward their bill in a partisan committee vote that set up a full vote by the Senate as soon as tomorrow, although details of the measure remained unclear. Republican leaders admitted that they have yet to round up the votes needed for passage in the Senate, where they hold a slim 52-48 majority.
Data released on Tuesday showed US consumer confidence has surged close to a 17-year high in November, due to a strong labor market, while house prices rose in September, which should underpin consumer spending and boost economic growth. The US Conference Board said its consumer confidence index increased 3.3 points to 129.5 in November, within striking distance of 132.6, which was touched in November 2000.
Jerome Powell, the Fed Chair nominee, appeared before the US Senate confirmation hearing on Tuesday and seemed to be continuing in his predecessor's steps, stating that the case for a December rate hike "is coming together". Powell pledged to continue the Fed's current approach to monetary policy, by gradually raising interest rates so long as economic growth remains healthy.
EURUSD is little changed overnight, currently trading around 1.1850.
USDJPY is unchanged in early Tuesday at trading around 111.52.
GBPUSD is 0.25% higher in early session trading at around 1.3367.
Gold is 0.15% higher, currently trading around $1,295.75.
WTI is 0.1% lower overnight, currently trading around $57.70.
Major data releases for today:
All Day: OPEC will host a meeting in Vienna, Austria with representatives from 13 oil-rich nations.
At 13:00 GMT: Destatis will release German Harmonized Index of Consumer Prices (YoY) for November. HICP is a measure of prices used by the Governing Council of the EU to define and assess price stability in the euro area as a whole in quantitative terms. The forecast is for a slightly higher release of 1.7%, compared to the previous 1.5%. Any significant deviation from forecast is likely to cause EUR volatility.
At 13:30 GMT: the US Bureau of Economic Analysis will release Gross Domestic Product Annualized for Q3. The forecast is for an improvement to 3.2% from the previous release of 3%. A higher release could see USD move higher, conversely, a lower than forecast release will see USD come under pressure. Core Personal Consumption Expenditures (QoQ) for Q3 will also be released. As an important indicator of US inflation, forecasts are suggesting a higher release of 1.4% (prev. 1.3%), which will further confirm a growing US economy and a higher probability of a December rate hike from the Fed.
At 14:00 GMT: Bank of England Governor Mark Carney is scheduled to speak at the FMSB – Two Years on From the Fair and Effective Markets Review Event in London.
At 15:00 GMT: Federal Reserve Chair Janet Yellen is scheduled to testify on the economic outlook before the congressional Joint Economic Committee in the US.
At 15:30 GMT: the US Energy Information Administration will release Crude Oil Stocks change for the week ended November 24th. A higher drawdown of -3.150M is expected, compared to the previous draw of -1.855M. With OPEC meeting in Austria, the markets will be looking to see how crude oil stocks have changed in the world's largest oil consuming nation and how that will affect the price of both WTI and Brent.