The House of Representatives voted on the Tax Bill early Tuesday local time. The Tax Bill was passed by a margin of 24 votes, with 227 Yay and 203 Nay. A procedural issue during the vote means the House has to vote on the Bill a second time, as the Bill passed by the house was in violation of Senate rules. Once these violations are amended the House will vote again, with this second vote believed to be only a formality. The Senate voted overnight and the Bill was passed by 51 to 48. The House should hold the second vote on the amended Bill early on Wednesday and President Trump has tweeted that he will hold a press conference subject to a successful outcome at 18.00 GMT.
German IFO business climate released by CESifo Group showed a slight drop to 117.2 from the consensus of 117.5. The previous reading was revised from 117.5 to 117.6. This measure of business morale has been trending strongly in 2017. Expectations came in at 109.5 from the consensus of 110.7 with the previous reading remaining unchanged. Current Assessment was 125.4, higher than the 124.7 figure expected. Prior reading was revised up to 124.5 from 124.4.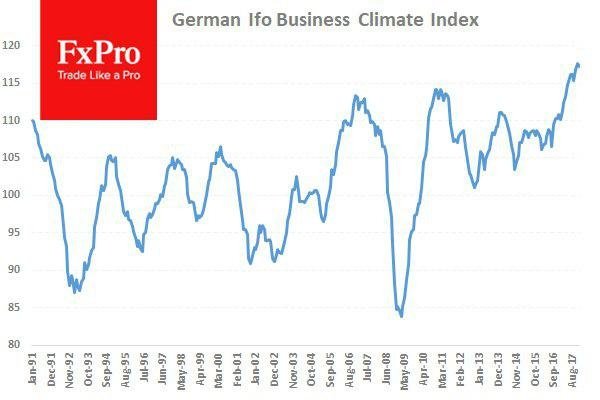 The US Census Bureau released Housing Starts (MoM) for November with the headline number coming in at 1.297M, against a consensus of 1.250M. Previous readings were revised to 1.256M from 1.290M. Building Permits (MoM) (Nov) was 1.298M, against the 1.273M expected. The prior number was raised to 1.316M from 1.297M.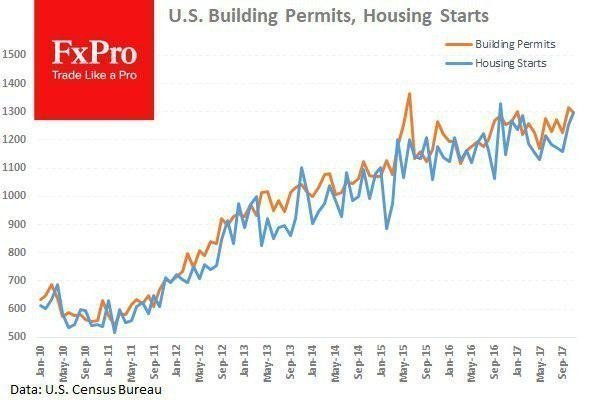 Japan All Industry Activity Index (MoM) (Oct) was released earlier today with the number slightly softer at 0.3%, against the expected figure of 0.4%. The previous number was -0.5%.
EURUSD is little changed overnight, trading around 1.18353.
USDJPY is up 0.10% in early session trading at around 112.993.
GBPUSD has little changed, now trading around 1.33879.
Gold was 0.16% higher in early morning, trading at around $1,263.30
WTI is little changed, trading around $57.75.
Major data releases for today:
At 13:00 GMT German Buba President Weidmann will give a speech titled 'The euro area between short-term momentum and long-term challenges' at the Analysis Forum in Milan.
At 13:15 GMT Bank of England Governor Mark Carney will testify before the Treasury Select Committee in relation to the November Financial Stability Report. GBP pairs may see an impact from comments made.
At 15:30 GMT US EIA Crude Oil Stocks Change (Dec 15). Previous reading was -5.117M. The expected reading this time is in the region of -3.518M. A smaller draw on stocks would most likely be bullish for WTI prices.