On Wednesday, the US Senate approved the tax bill 51 for and 48 against, while the House of Representatives gave it final approval, passing it for the second time in two days after a procedural foul-up forced another vote. The bill passed the House with a vote of 224-201, with no Democrats voting for it and some Republicans members also voting no. The bill now heads to President Trump for his signature. The markets remain concerned as to how much stimulus the bill will give to an already improving US economy. Improved growth could cause upward inflationary pressures which may result in the Federal Reserve increasing the pace of rate hikes which would see USD strength. However, it could increase fiscal deficits with little incentive for businesses to hire more workers which could stunt economic growth and see USD under pressure. Only time will tell what effect the bill will have on USD as the markets are now gradually "winding down" for the Holiday Season.
Earlier today the Bank of Japan released its monetary policy statement opting to keep its policy unchanged. The BoJ stated that it is committed to its 5-year-old 2% inflation target, but suggested inflation expectations to be in a "weakening phase." It forecast that inflation would likely gradually rise thanks to tightening capacity commenting "Industrial production has been on an increasing trend, and labor market conditions have continued to tighten steadily," Short term interest rates will stay at -0.1% and the target for the 10-year government bond yield at zero percent. The statement was expected by the markets although many believe the BoJ will remove its stimulus (QE) in 2018. JPY has strengthened against USD recently and early Thursday trading has seen some of those gains erased as USDJPY has moved higher.
● EURUSD is little changed in early Thursday trading around 1.1868
● USDJPY is slightly higher in early session trading around 113.44
● GBPUSD is relatively unchanged overnight trading around 1.3367
● Gold is slightly higher trading around $1,266
● WTI is 0.1% higher trading around $58.10
Major data releases for today:
▸At 09:30 GMT: the UK Office for National Statistics (ONS) will release Public Sector Net Borrowing requirement for November. Forecasts are calling for a substantially higher release of £11.163B up from October's £7.464B. Regardless of the actual release the markets are likely to see volatility in GBP.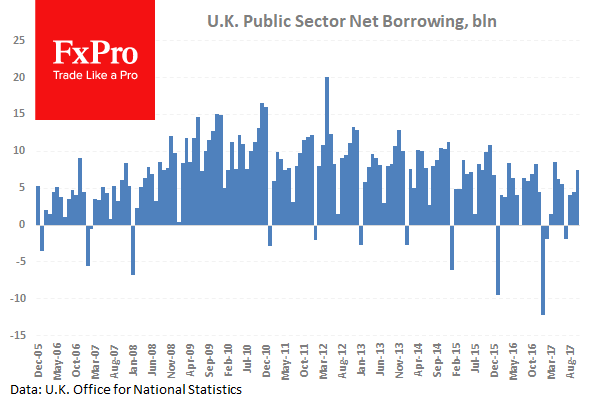 ▸At 13:30 GMT: the US Bureau of Economic Analysis at the Department of Labor, will release Gross Domestic Product (GDP) for Q3 both Index and Annualized. The annualized GDP is expected to remain unchanged at 3.3% with the Index expected to be also unchanged at 2.1%.
▸At 13:30 GMT there are a plethora of economic data releases:
The US Bureau of Economic Analysis at the Department of Labor, will release Personal Consumption Expenditures (PCE) Price and Core (QoQ) for Q3. Core is expected unchanged at 1.4% and Prices are expected unchanged at 1.5%
▸The US Department of Labor will release Initial Jobless Claims for the week ended December 15th and Continuing Jobless Claims for the week ended December 8th. Initial Claims are expected to come in at 241K a higher reading than the previous 225K. Continuing Claims are forecast to come in at 1.928M being higher than the previous release of 1.886M.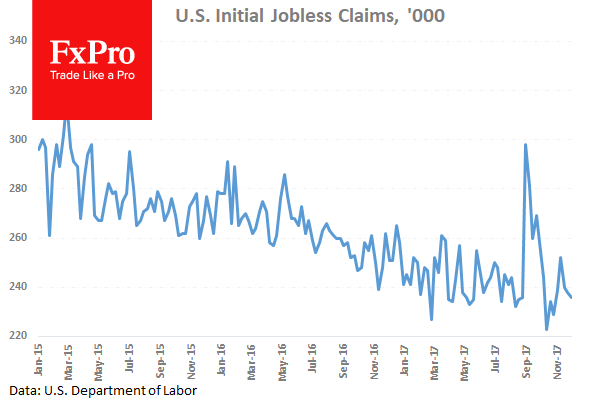 ▸Statistics Canada will release a plethora of month-on-month economic data; For October: Retail Sales are forecast to come in at 0.0% from the previous 0.1% with the ex-Auto reading expected at 0.0% from 0.3%. For November: Consumer Price Index is forecast to come in at 0.0% from 0.1% CPI Core is forecast at -0.7% from the previous 0.3%. Annualized CPI is expected to come in at 1.3%, slightly lower than the previous reading of 1.4%.