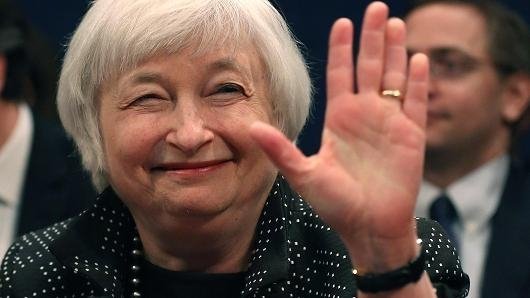 On Wednesday, Janet Yellen held her last FOMC meeting as Chair of the Federal Reserve. On Saturday, February 3, Jerome Powell will officially take over as the new head of the most powerful central bank in the world. During Yellen's 4-year term, the Fed smoothly moved from an extraordinary stimulus policy to raising rates and starting a programme of winding down the balance sheet of the Central Bank.
One of Yellen's major advantages was an increase in policy transparency, together with her ability to clearly convey the Monetary Policy Committee's plans for coming quarters and months to the markets. This contrasted heavily with the situation while Alan Greenspan was Chairman, during the term of whom it was widely believed that the comments of the head of the Central Bank should be as balanced and vague as possible, with Greenspan telling journalists: "If I turn out to be particularly clear, you've probably misunderstood what I said." In the crisis that ensued, Ben Bernanke effectively came up with new non-standard methods of supporting and expanding money supply by reducing interest rates to zero, as well as by overseeing massive asset purchases.
The Fed now publishes quarterly committee forecasts on the main macroeconomic indicators and assumptions of key rate level for the coming years. Such a policy undoubtedly deprives the Central Bank of the ability to manoeuvre in order not to deceive market expectations, yet it has had extremely favourable consequences for the markets:
– The historical lows of the VIX volatility index were recently updated, reflecting the highest degree of bidder confidence.
– Stock indexes show significant growth. The Dow Jones is up by 60% since 2014 and by 160% since 2010, the year Yellen became Vice Chairwoman, having successfully survived a period of unrest around the growth rates of the Chinese economy due to a clear signal that the Fed would postpone rate hikes.
It is still uncertain whether Powell's arrival will result in a return to more complicated comments and contradictory signals, or whether transparency will continue and potentially increase.
We may now support that policy transparency, led by Yellen, has helped stabilise markets, accelerate their growth and reduce volatility. In the post-crisis recovery period, this came as an effective solution that supported the financial markets. Nonetheless, it seems that Washington has decided that new times require new leaders.