American stock indices closed higher on Tuesday, despite the drops experienced earlier in the day. This morning, index futures are trading at slightly lower levels, with a prevalent sense of caution creating pressure on Asian sites. The MSCI Asia Pacific Index, excluding Japan, is now at 0.8%, albeit trading earlier at 2% gains.
The U.S. index dynamic towards the end of Tuesday's trading could be viewed as a return to growth, yet this morning's trading activity has shown seller strength. It's been two years since the last stock market correction, which lasted nearly a month and took 15% off peak levels. In its aftermath, we observed only brief kickbacks, with price fluctuations followed by new historical highs.
The current correction we are observing is 10% off the peak, suggesting that there still remains a significant potential for further decline in the coming days despite the rebound yesterday. Technical analysis shows that the goal of this correction may be the 200-day average level, which is now near 2540 for the S&P 500 and 5% below current levels. A drop below this 200-day moving average will most likely act as another bearish signal.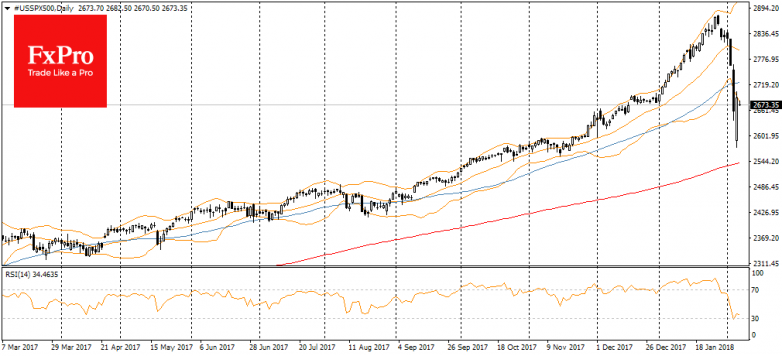 Simply put, it may still be too early to talk about a return to growth or to celebrate another fast and easy victory of the bull market. Rather, it seems more likely that panicked selling will give way to more calculated portfolio rebalancing.
The currency market seemed unaffected yesterday by stock market events, with EURUSD closing near 1.2370, registering gains of 10 points (0.08%) and gaining roughly as much this morning. A similar pattern may also be observed across other currency pairs.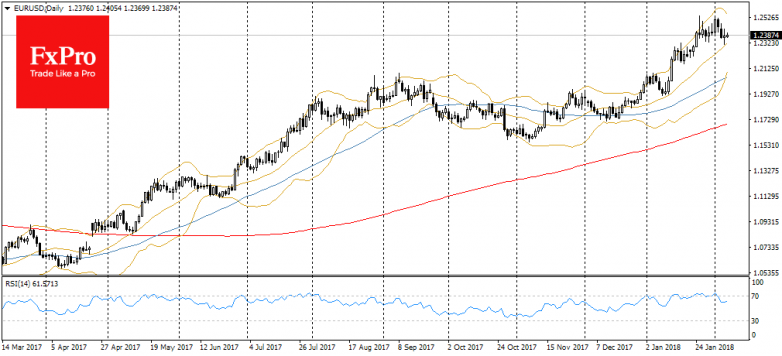 Oil also found support yesterday in monthly lows. Today's weekly report on U.S. Crude reserves and production is likely to have an impact on its price, while the nervousness expected at today's U.S. market open will likely result in a very volatile European market close.
Like stock indices, Cryptocurrencies also seemed to find some support yesterday, which seems to confirm a correlation between the two markets. Bitcoin found support at $6,000 and experienced some gains around $7,500, a positive dynamic which seems supported by both volume growth and a rise in exchange rate.