Crude oil came under pressure yesterday following the release of weekly statistics on inventories and supply in the United States. Inventories are up for a second week in a row, a common occurrence for this time of year, with nothing notable shown after 10 weeks of substantial decline. Most importantly, perhaps, the report showed that production exceeded 10 million barrels a day for the first time. With their 10.25 million barrels per day, the U.S. became the third country in the world behind Russia (10.95 million) and Saudi Arabia (10.6 million) with a production that exceeds 10 million barrels per day. That Russia and Saudi Arabia have agreed to freeze oil output gives the U.S. a chance to catch up in the near future.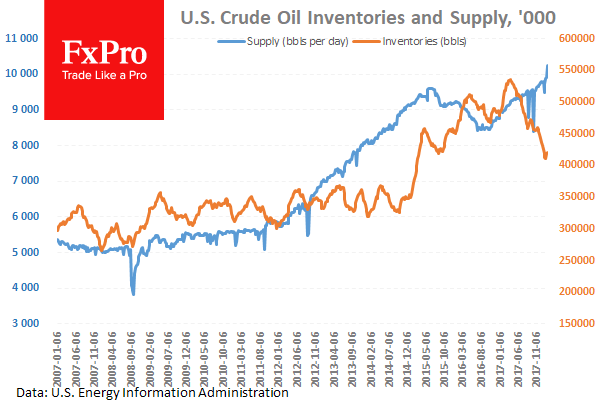 What's also important is that these high output levels are achieved more efficiently when comparing with production in 2014. According to the latest data from Baker Hughes, the number of operating drilling rigs owned by the U.S. is 946, roughly half the number of 1931 drilling rigs that were in operation in September 2014. This gives evidence of higher productivity, with a reduction in the number of new wells while maintaining a higher pumping volume.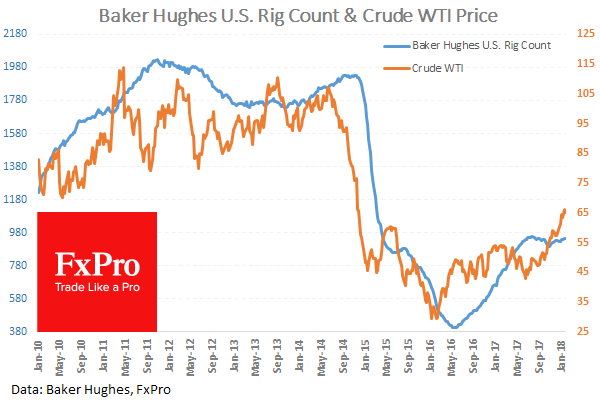 News about the growth in Crude production had a significant impact on oil quotes. Following the publication of the report, oil fell by 3.5%, with Brent trading around $65 per barrel and WTI near $61.30. The report forced market participants to continue selling, sending quotes at 1.5-month minimums.
It is possible that fears of a repetition of the dynamics observed at the end of 2014 may return to the markets, as investors turn their focus to such reports in effort to discern whether a new wave of global inventory growth is on the horizon. Should this happen, oil could come under even greater pressure with more important milestones reached along the way in the regions of $62.9 (100-day Moving Average) and $60.80 (Fibonacci correction level from the June-January rally) for Brent.