The last 24 hours have seen no drastic changes in the overall mood of market participants. In equity markets cautious purchases prevail, while in the foreign exchange market the U.S. dollar is retreating. U.S. stock indices are displaying growth mainly due to the dollar weakening, while Asian markets displayed mixed dynamics this morning.
The USDX index lost 0.4%, while EURUSD added 0.5% and traded at 1.2370. On its third attempt, USDJPY managed to break through, falling to its lowest levels since November 2016.
Markets seem unable to let go of fears that inflation in the U.S. will reach 3% in the coming months, a scenario that would most likely force the Fed to raise rates immediately. It is necessary to understand that the Central Bank does not react to every single report, but to overall general trends. For example, CPI-measured inflation in the U.S. averaged at 0.8%, which did not prevent the Fed from raising rates. Even if we now were to see a percentage in excess of the target due to low base effect, it is unlikely that it would lead to significant revisions of monetary policy plans.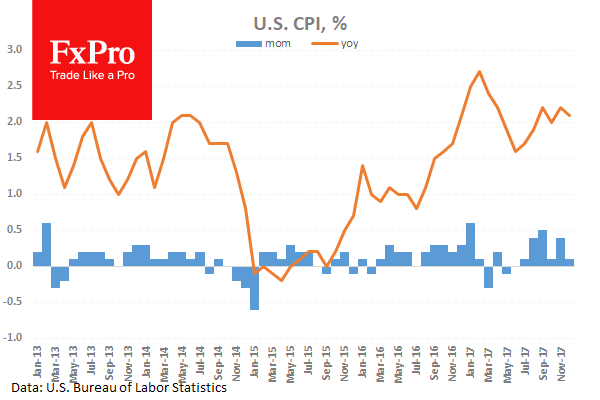 Today we are expecting the publication of the CPI. Analyst forecasts, which in the case of the CPI often come true, are expecting a slowdown in inflation rate to 1.9% from 2.1% YoY, in spite of the impressive increase in retail sales.
The Fed's preferred Core PCE Deflator has marked a decrease over the past year, down to 1.5% from 1.9%. This caused quite a debate at the end of last year with regards to inflation prospects, forcing Fed officials to admit that its acceleration was frighteningly slow.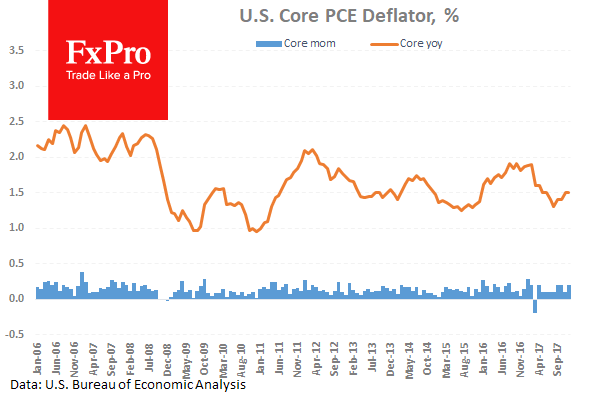 It looks like inflation worry in the markets is exaggerated and will most probably not have a lasting impact. Investors seem to be cautiously returning to risky assets, selling the dollar after last week's wave of correction. It still remains very likely that the main trends of the past year like USD weakening and the stock rally will persist for some time as the economy displays steady growth and maintains the potential for acceleration as a result of the optimism surrounding the announced reforms.