The crypto market entered a new correction phase in the middle of the current week, a phase associated with investor doubts regarding the market's future. The total market capitalisation fell to $434 billion, down from the $500 billion levels it had reached earlier.
Many Bitcoin investors were observed selling the cryptocurrency as it faced resistance near $12,000, with Bitcoin losing almost $2,000 of its value in only a number of days as a result; a drawdown supported by other altcoins.
While some economists expect a new financial system based on digital currency, the condition of the cryptocurrency market looks more similar to that of the stock market in the early 20th century. In fact, the decline in the crypto market is confirmed by technical pattern from the stock market, which suggest market weakness when upward price movements are not supported by growing trading volumes – a reflection of what we've observed this week.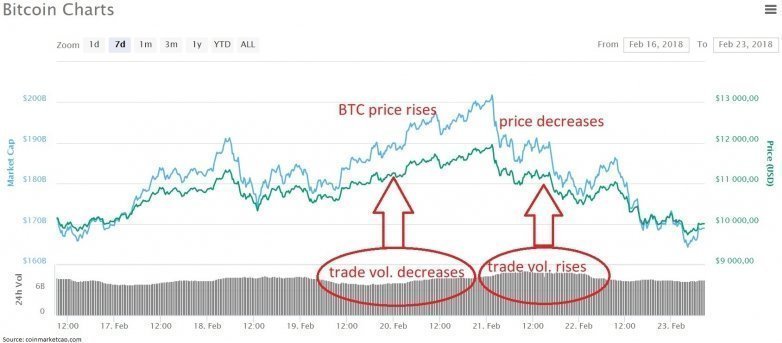 The crypto market correction could also be associated with changes in the market's structure, with large investors entering the ICO market. According to TokenData, ICO startups have attracted approximately $2 billion in the first two months of 2018 alone, as opposed to attracting $5.7 billion throughout 2017. Sometimes, tokens of prospective projects are bought within just a few minutes by a small group of 'whale' investors.
We could say that the crypto market is currently in the red. Bitcoin lost roughly 8% in the last 24 hours, now trading around $10,000. Ethereum is trading near $844 (-2.77%), while Ripple has fallen by 7.74%, down to $0.94. Should Asian investors fail to positively affect the market after they return from the holidays, it is possible that the downward trend will continue and that we will see new lows.