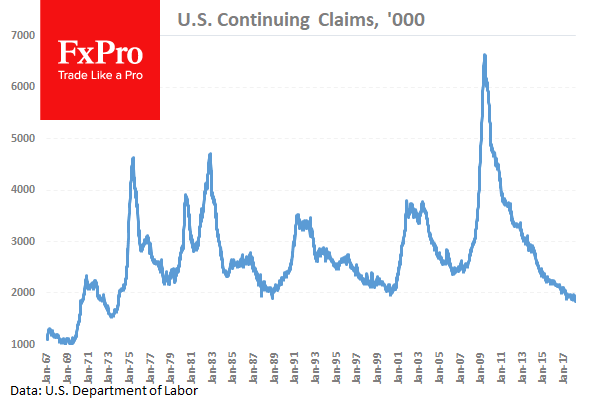 U.S. weekly Unemployment Claims data is once again in focus. The number of Continuing Jobless Claims fell to 1,828K, the lowest level since 1973. This indicator has been fluctuating around the 1900K mark since August 2017, with the current data suggesting a breakthrough to new lows, reflecting a new stage for the U.S. labor market.
The number of Initial Jobless Claims also continue to decline, having reached their lowest level since 1969 a few weeks ago.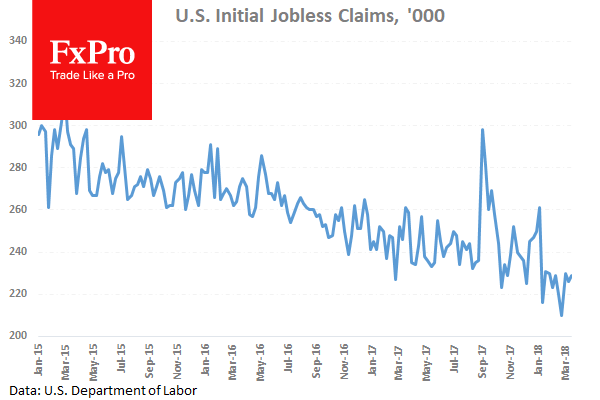 It is important to understand that the labor market today is fundamentally different from that of the 1970s. The population of the United States has increased by 60% in almost half a century, which makes the recent decline in claims even more impressive.
However, such low numbers for unemployment claims are in fact a reflection of the change in demography. In the 1970s, the average age of an American citizen was 28, however, according to the latest data, this is now closer to 38. Simply put, people are less insured against unemployment, as they are closer to retirement age. The influx of labor into the United States appears to be attributable to those that had previously dropped out of employment, now returning to the workforce.
The low levels in unemployment claims also explain the paradox that, despite average employment growth of 243K in the last 5 months, there has been no decline in unemployment rate or wage growth.