Markets are afraid that trade tariffs may shatter existing world trade rules, with finance ministers and central bank heads in efforts to formulate new rules. Previous events as well as the current situation suggest the possibility of a decision that will revolve around attempts to weaken the U.S. currency.
During the last 35 years, there have been several periods during which the United States actively struggled with trade deficit. In the 1980s, the Plaza Accord occurred as a most notable event, an agreement on coordinated actions in attempt to weaken the dollar.
In the early 2000s, the dollar came under pressure as the Fed kept interest rates much lower than monetary policy rules suggested. At the time, however, world politics saw U.S. securities in the reserves of the central banks of Emerging Markets, which allowed the dollar to maintain an important reserve currency status in spite of the weakening exchange rate.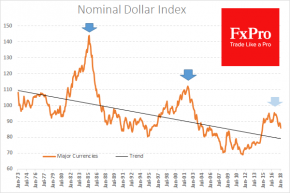 The graph of the dollar index to the major trading partner currencies gives a clear picture of reversals. The early 1980s rally saw the index rise from 93 to 144 points (up 155%) in approximately 5 years, before collapsing to 88 in just 3 years. Subsequently, between 1988-1995, the dollar experienced a less volatile decline, maintaining its downward trend nonetheless. Between 1995-2002, the currency strengthened to trading partner currencies, largely due to the Asian crisis and a mistrust against the euro.
With the Fed keeping rates lower than expected, the dollar experienced further decline, with a period of two years wiping out 30% of its value and the USD eventually returning to levels seen in 1995. Following that, and between 2004 and 2011, the dollar kept registering new lows, with the index falling to 70.
Should expectations materialise, the decline experienced by the dollar last year and the beginning of trade negotiations between finance ministers and heads of central banks would seem to be related. One of the main side effects of such a policy may be a potential drop of the dollar over the next 2 years from its current level at 86 to below 70 USDX.
What's also notable is that the above may be followed by the U.S. currency experiencing further decline in the years to come, albeit less actively, with the possibility that the index falls down to 60, that is, a 30% decline from current levels. Should this take place, the single currency could grow to 1.78, while USDJPY could fall to 73.
Most probably, the main beneficiary of the potential USD decline will be the Chinese yuan. It would not be hard to imagine the U.S. authorities adding pressure on China to allow its currency to grow. The Central Bank of China has been trying for many years to keep the RMB exchange rate near the dollar, which periodically provokes discontent in the U.S. Should the Chinese yuan come into focus, the dollar would most likely move less against other currencies than previously.