According to CoinMarketCap, Bitcoin failed to recover after experiencing a 6.5% drop on Tuesday, now trading below $8,000. It is very likely that a global risk-off sentiment in the markets continues to put pressure on cryptocurrencies.
It is worth looking at how the market is likely to react, should BTC reach the recent low of $7,800 or February's low of $6,300. What plays a major part in the cryptocurrency market is investor disappointment – new investors attracted to the market due to last year's high returns are now losing faith and selling their assets during upswings.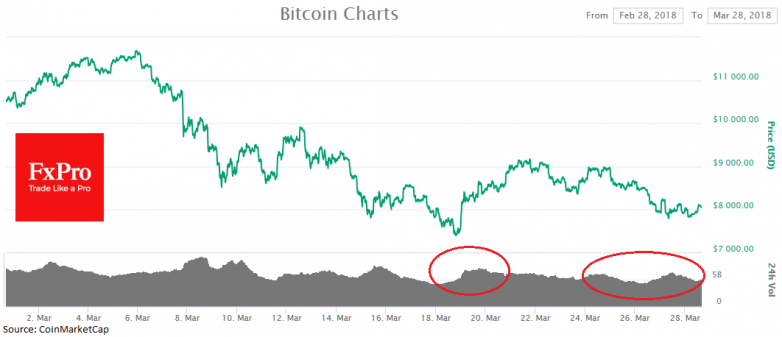 The $8,000 mark is particularly important in terms of technical analysis. When BTC was trading around this level approximately a week ago, buyers showed interest, leading to a rebound in price that surpassed $9,000. Bitcoin's trade volume, however, has decreased, with BTC falling again to $8,000.
During the last 24 hours, the market has registered growth in trading volume near the $8,000 mark, though this has not pushed the price higher. Such dynamic is often considered a strong selling signal as a result of too many sellers. Should the decline continue for Bitcoin, the trade volume dynamic around recent lows would require further analysis. The next level we are considering is $7,400, reached on March 18. Should there be no buyers there, the next important mark would most likely be around $6,000.